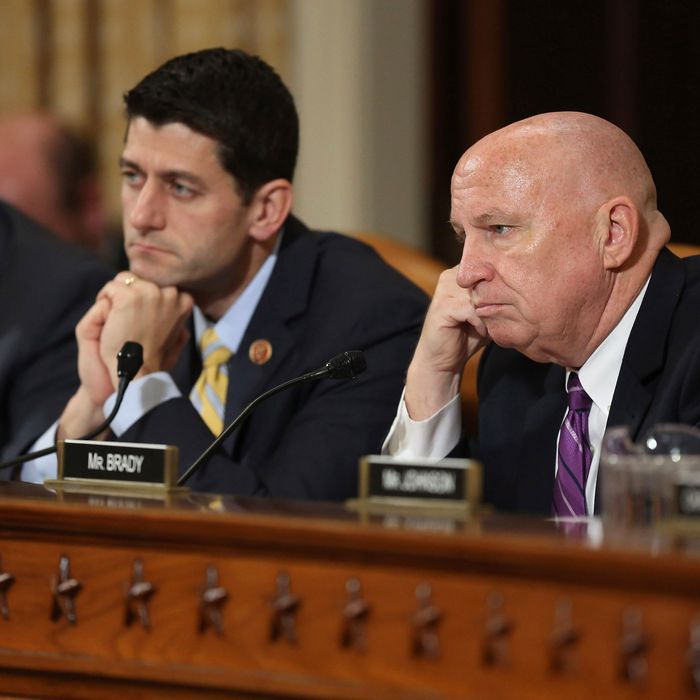 Congressmen Paul Ryan and Kevin Brady need more Red Bull.
Photo: Chip Somodevilla/Getty Images
Republicans have promised their donors $5 trillion worth of tax cuts. But their budget only allows for revenue loss of $1.5 trillion. What they call "tax reform" is a process of trying to stuff the $5 trillion tax cuts into a $1.5 trillion bag. Every time they've introduced an offsetting revenue increase to cover the difference, lobbyists have killed it.
The supposed answer to this dilemma was scheduled to be unveiled Tuesday. Then the date became Wednesday, and finally, late Tuesday evening, while Republicans tried to overcome the problems of basic arithmetic through sheer adrenaline — "I would say there is a lot of Red Bull and Monster being drank in there right now," one Republican member told Politico — they delayed it to Thursday.
Republicans told reporters they have a handful of "unresolved issues" —including, but not limited to, curtailing the tax deduction for state and local taxes, designing a tax break for pass-through businesses, the treatment of 401(k) retirement plans, and whether or not to make the corporate tax-rate cut permanent.
In other words, all the issues.
Increasingly they are settling on the solution of making up their revenue loss through timing gimmicks. By phasing in and phasing out elements of their tax cuts, they can restrain the paper cost of the revenue loss, and then later come back and portray the expiring tax cuts as an emergency that must be resolved by extending them. Leaks from the House suggest leaders plan to delay expiration of the estate-tax repeal, and phase out the corporate tax-rate cuts, all to mask the total revenue loss. The success or failure of the tax cuts is probably going to depend on how successfully Republicans can game the scoring system.
Still, Republican leaders are insisting all is well and the delay will be brief. "We are pleased with the progress we are making," assures Ways and Means Committee chairman Kevin Brady, "and remain on schedule to take action to approve a bill at our committee beginning next week." By the way, is there anyone onboard who knows how to fly a plane?