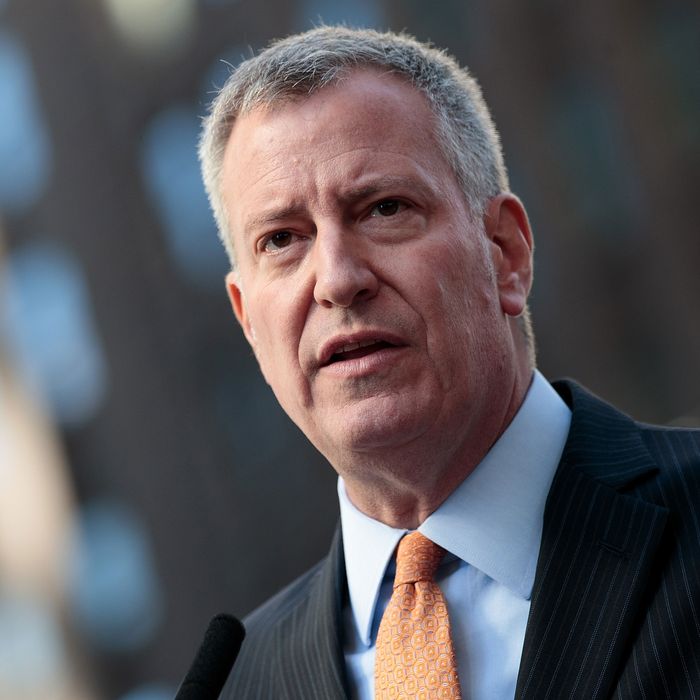 Mayor Bill de Blasio.
Photo: Drew Angerer/Getty Images
The mayor's office sent New York a rebuttal to architecture critic Justin Davidson's recent article, "Bill de Blasio, New York's Putterer-in-Chief." Davidson argued that de Blasio's first term was marked by timidity when it came to imprinting his vision on the physical city. In the spirit of productive debate, Daily Intelligencer is pleased to share that response:
To the editor:
If Justin Davidson wanted to see Mayor de Blasio's impact on the pubic realm, he didn't need to look far.
Big city-building vision? We completed the biggest overhaul of the city's zoning code since 1961 — paving the way for better buildings and mandating affordable housing in new development. We accomplished something the previous administration couldn't — the wholesale rezoning of East Midtown to build a new generation of office buildings matched by real-time improvement to the aging district's streets and transit.
Better public space? We're rebuilding 67 long-neglected neighborhood parks — the places real New Yorkers raise their kids and decompress. We just made all of Prospect Park car-free for the first time since the advent of the automobile. We purchased the last big piece of the long-promised Bushwick Inlet Park, a once in a generation opportunity to give Williamsburg back its waterfront.
Dynamic streets? Queens Boulevard is being transformed from the fabled "Boulevard of Death" into a complete street with pedestrian promenades and protected bike paths — part of an unprecedented expansion happening all over the city. The very first Dutch-style "shared streets" are making their debut in Midtown.
And connecting it all, the first citywide ferry service in a hundred years now links 12 neighborhoods, carrying 2.5 million people in just six months.  And we are just getting started.
Mr. Davidson should hop on one of our new ferries sometime. He might see more of the changing city he's missing out on!
Alicia Glen
NYC Deputy Mayor for Housing and Economic Development