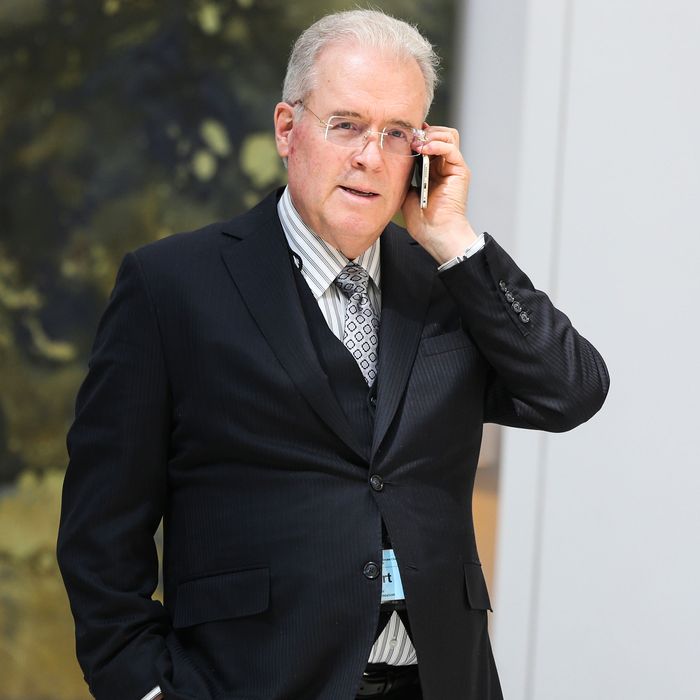 No Mercer.
Photo: Oliver Contreras/The Washington Post/Getty Images
Right-wing billionaire Robert Mercer, an patron of Breitbart News credited with elevating Steve Bannon and Kellyanne Conway to positions of influence in the Trump campaign, is resigning from the hedge fund Renaissance Technologies and selling his stake in Breitbart News. Mercer sent a letter to investors on Thursday declaring his intention to step down on January 1.
In the letter, Bloomberg reports, Mercer cited "personal reasons" for wanting to sell his stake in Breitbart News, and took issue with the idea that he "marches in lockstep" with Bannon. Mercer also repudiates Milo Yiannopoulos in the letter. The former Breitbart News tech editor and professional troll "caused pain and divisiveness," Mercer wrote, "undermining the open and productive discourse that I had hoped to facilitate."
Mercer is leaving Renaissance Technologies after drawing an unwelcome spotlight onto the firm. Last week, a group called Sleeping Giants began a campaign to convince pension funds and universities to divest from the hedge fund because of Mercer's relationship with Breitbart. "While Steve Bannon gets much of the spotlight for his inflammatory website Breitbart News, it is the billionaire investor, Robert Mercer, who is responsible for growing the scale and reach the site's racist agenda has today," the group said in a statement.
Breitbart News was only part of the vast conservative empire established by Mercer and his daughter Rebekah. His fortune funded PACs, think tanks, lobbying groups, and tech firms, many of which would eventually go to work for Trump.
When so many wealthy conservative donors were staying away from Trump, the Mercers went all-in, and it's hardly a stretch to suggest that without Robert Mercer, there is no President Trump.
In the end, though, Mercer's boosting of Trump appears to have cost him his job. Hard to imagine him being too upset, though. Now, the 71-year-old billionaire has more time to play with his $2.7 million train set.