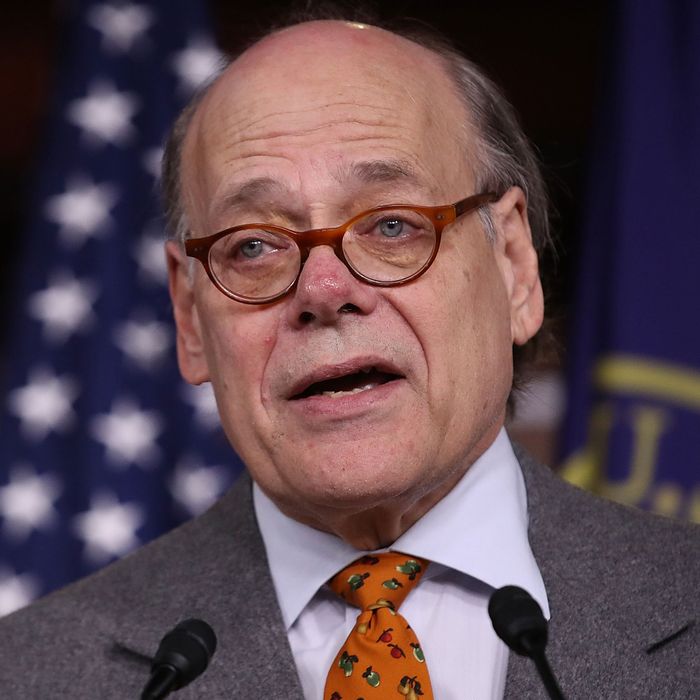 Congressman Steve Cohen.
Photo: Win McNamee/Getty Images
Six Democrats in Congress defied party leadership Wednesday and introduced articles of impeachment against President Trump, a symbolic effort that is primarily meant to boast morale among Trump-hating Democrats in their home districts.
The five articles of impeachment accuse Trump of obstructing justice for firing former FBI director James Comey, undermining the independence of the judiciary and the press, and violating both the foreign and domestic emoluments clauses.
"The time has come to make clear to the American people and to this president that his train of injuries to our Constitution must be brought to an end through impeachment," Tennessee representative Steve Cohen said at a press conference Wednesday. The five other representatives to sign on the effort are Luis Gutierrez of Illinois, Al Green of Texas, Marcia Fudge of Ohio, Adriano Espaillat of New York, and John Yarmuth of Kentucky.
Cohen acknowledged that the effort will likely be fruitless given the Republican majorities in the House and Senate. But as his co-sponsor Luis Gutierrez argued, it is the responsibility of those who observe crimes in the White House to "do our jobs."
"I see a crime and I have a responsibility to dial 9-1-1 immediately," said Gutierrez. "I don't reach consensus with all my neighbors and friends, I call the police and I activate an investigation."
If Cohen and Gutierrez had gone looking for consensus, they wouldn't have found it. Democratic leaders oppose their move because they think it will embolden Trump's base and distract from issues that could help Democrats in the midterms.
"Do we disagree with the policies? We do. But disagreeing with the policies is not enough to overturn an election, a free and fair election," House Minority Whip Steny Hoyer said Wednesday.
But Cohen brushed aside those concerns. "I think the Democratic base needs to be activated. The Democratic base needs to know there are members of Congress willing to stand up against this president," he said.