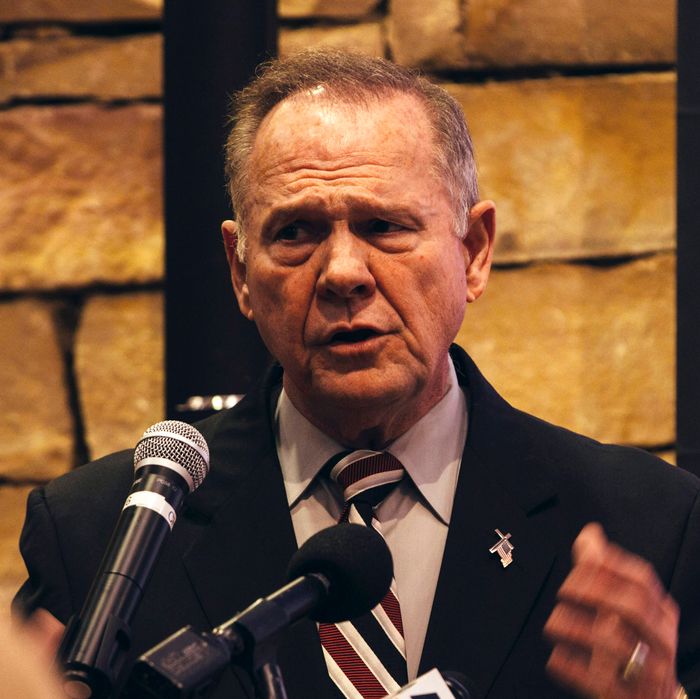 The embattled Senate candidate speaks at a mid-Alabama Republican Club's Veterans Day event on November 11, 2017 in Vestavia Hills, Alabama.
Photo: Wes Frazer/Getty Images
Roy Moore began dismissing the Washington Post's report that he pursued romantic relationships with teen girls when he was in his 30s as "fake news" before the story was actually published. Then on Sean Hannity's radio show, the Republican Alabama Senate candidate denied even knowing Leigh Corfman, who accused him of molesting her when she was 14. However, he was cagier when asked if he ever dated teenagers in the late '70s and early '80s, saying it would have been "out of character." He said if he did date any teen girls, he would have gotten permission from their mothers.
It was not the clearest denial, but soon we may get a better picture of what facts Moore says the paper got wrong. At a Christian Citizen Task Force forum in Huntsville, Alabama, on Sunday night, Moore said the Post had impugned his character and reputation because "they are desperate to stop my political campaign," adding, "these attacks said I was with a minor child and are false and untrue — and for which they will be sued."
Or perhaps there won't be any legal action. Moore offered no details about what kind of suit he planned to file, or when he planned to file it. As NBC News notes, both President Trump and Harvey Weinstein threatened to sue the New York Times after the paper published allegations of their sexual misconduct, but neither suit has materialized.
Moore also said he planned to reveal more information about the background of his accusers. "We've still got investigations going on," Moore said. "We're still finding out a lot we didn't know."
It appears he's already following through on that promise, with help from Breitbart News. The Post reported that the outlet sent its employees to the state to investigate the four women who accused Moore of misconduct.
It was Breitbart that ran Moore's denial of the Post report shortly before it was published, and the outlet has been pushing the idea that the allegations are the result of Democrats scheming with the "Bezos–Amazon–Washington Post."
That effort continued on Sunday, when Breitbart published a report titled "Exclusive: Mother of Roy Moore Accuser: Washington Post reporters Convinced My Daughter to Go Public." It reads:
Corfman's mother, Wells, told Breitbart News that reporters for the Washington Postconvinced her daughter to give them an interview.

"She did not go to them," said Wells. "They called her."




"They tried to convince her to do it?" this reporter asked.




"Yes," replied Wells, matter-of-factly.




Wells was asked about Corfman's motivations for going public. "It wasn't done for politics, you know," Wells replied. "It was done for personal reasons. And it wouldn't have been done if the reporters hadn't contacted my daughter."




Asked about the timing of The Post interview and why 38 years after the alleged incident her daughter decided to speak out weeks before the election, Wells replied: "She was contacted by the reporter. That's why."
Breitbart says this seems to "indicate activist behavior on the part of the Washington Post reporters," but others said the activities described are called reporting. The Post's original report on Moore explained that the women agreed to come forward following multiple interviews with the paper:
Neither Corfman nor any of the other women sought out The Post. While reporting a story in Alabama about supporters of Moore's Senate campaign, a Post reporter heard that Moore allegedly had sought relationships with teenage girls. Over the ensuing three weeks, two Post reporters contacted and interviewed the four women. All were initially reluctant to speak publicly but chose to do so after multiple interviews, saying they thought it was important for people to know about their interactions with Moore. The women say they don't know one another.
Earlier on Sunday, another national Republican, Senator Pat Toomey of Pennsylvania, called on Moore to drop out before the election on December 12.
"This is a terrible situation. […] We'll probably never know for sure exactly what happened," Toomey said on Meet the Press. "But from my point of view … I think the accusations have more credibility than the denial. I think it would be best if Roy would just step aside."