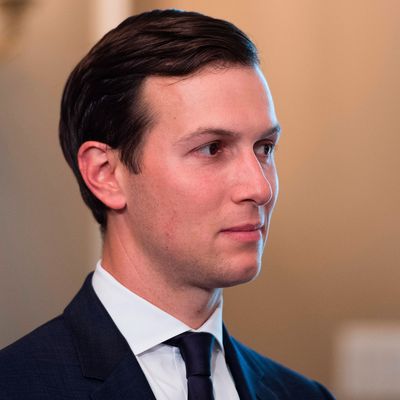 I've never even heard of Russia!
Photo: Jim Watson/AFP/Getty Images
Either Jared Kushner is trying to hide something, or his memory is very poor for a 36-year-old.
On Friday, the New York Times and NBC News reported that the "Russian backdoor overture and dinner invite" Kushner failed to disclose to Senate investigators involved a banker with close ties to Vladimir Putin — and possibly organized crime.
The man at the center of the story is Aleksander Torshin, who is the deputy head of Russia's central bank, a major Trump fan, and a stalwart ally of Vladimir Putin. He has also been accused by Spanish police of being a mafia "godfather," which he denies, as one would.
Torshin did not email the campaign directly in May 2016; instead, his request came through a message from Christian-issues advocate Rick Clay to campaign aide Rick Dearborn, who is now a White House deputy chief of staff. According to the Times' sources, Clay's email to Dearborn "suggests Torshin was seeking to meet with a high-level Trump campaign official" during an NRA convention in Louisville that Trump was attending. The emails also implied that Torshin might have been carrying a message from Putin himself.
Kushner exchanged emails with Dearborn before ultimately deciding to nix the meeting.
"Pass on this," Kushner responded, according to a letter his lawyer, Abbe Lowell, sent to the Senate Judiciary Committee Friday evening. "A lot of people come claiming to carry messages. Very few we are able to verify. For now I think we decline such meetings."
Nevertheless, Torshin scored a consolation prize: a seat at a dinner Donald Trump Jr. attended during the Louisville convention. (On Saturday, Trump Jr.'s lawyer said he spoke with Torshin at the event, but that they were not seated together.)
Unbowed, Torshin was still trying to get an audience with Trump after he won the presidency. In February, Yahoo News reported that the Trump administration pulled out of a meet-and-greet involving Torshin at the last minute after learning of the organized-crime allegations.
Kushner didn't disclose the 2016 emails to the Senate until prodded by Judiciary Chairman Chuck Grassley and ranking member Senator Dianne Feinstein. Lowell insisted that Kushner had been a mere side player in the affair. "Again, this was not any contact, call or meeting in which Mr. Kushner was involved," Mr. Lowell said. "He is forwarded this long chain later on."
Regardless, Kushner's failure to disclose the records is just the latest example of his consistent evasiveness on all things Russia-related.
In July, he admitted to having met with four Russians during the campaign and transition, information he had not previously divulged when he applied for his high-level security clearance. The "foreign contacts" list on his disclosure form, initially left blank, was updated three times to include more than 100 names — just a slight oversight.
Kushner also reportedly testified under oath to congressional investigators that he had no knowledge of any campaign contacts with WikiLeaks, even though Donald Trump Jr. had sent him an email about his conversations with the organization. He failed to mention that he had attended an infamous June 2016 meeting set up by Donald Trump Jr. at Trump Tower, in which a Russian lawyer, Natalia Veselnitskaya, allegedly offered "dirt" on Hillary Clinton.
That gathering took place just weeks before the aborted attempt by Torshin to meet with campaign officials (and a couple of months after the now-indicted George George Papadopoulous told the Trump campaign that Moscow had incriminating information on Clinton).
And then there was the secret back channel Kushner tried to set up with the Russian ambassador soon after President Trump's victory.
Kushner was among the leading voices advocating for President Trump to fire former FBI director James Comey to forestall an investigation into Russian electoral interference, a move that backfired by leading to the appointment of Special Counsel Robert Mueller. As Mueller's investigation begins to snare some Trump administration targets, Kushner continues to dissemble about which Russians he spoke to and when he spoke to them.
In July, after testifying on the matter to the Senate, Kushner insisted in a rare public appearance that he "did not collude with Russia." Perhaps not. But it doesn't take much investigative prowess to sense that he's not on, or even near, the level.