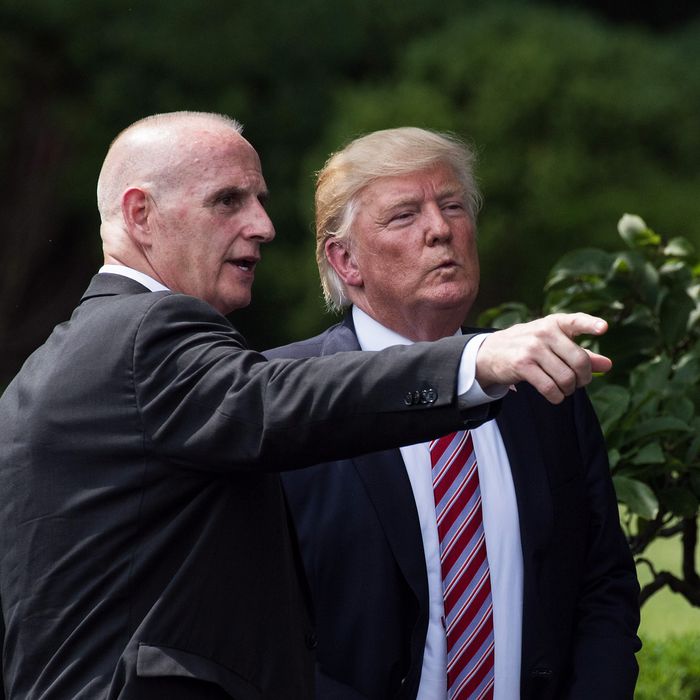 "Show them your kissy face."
Photo: Nicholas Kamm/AFP/Getty Images
When Donald Trump was in Moscow for the 2013 Miss Universe pageant, his longtime bodyguard Keith Schiller turned down an offer to have five women sent to the now-president's hotel room, Schiller told Congress this week.
Schiller, who was named head of security for the Trump Organization in 2004, immediately told the man making the offer, "We don't do that type of stuff."
CNN says Schiller claimed, in an interview with the House Intelligence Committee, to take the offer as a joke. He said he relayed the offer to Trump as they made their way to the billionaire's Moscow hotel room and Trump laughed it off. After accompanying Trump to the room, Schiller said he waited outside for a few minutes and then left, CNN reports.
Schiller told the House committee about the offer of women while discussing the salacious details contained in the infamous "Steele dossier" written about Trump during the campaign. The dossier's most eye-catching claim is that Russian officials have a video of Trump in an upscale Moscow hotel room watching prostitutes urinate on a bed that Barack and Michelle Obama once slept in.
Schiller reportedly told Congress that story behind the so-called "pee tape" is "bullshit." But he also admitted that he couldn't be sure what happened after he left Trump's hotel door.