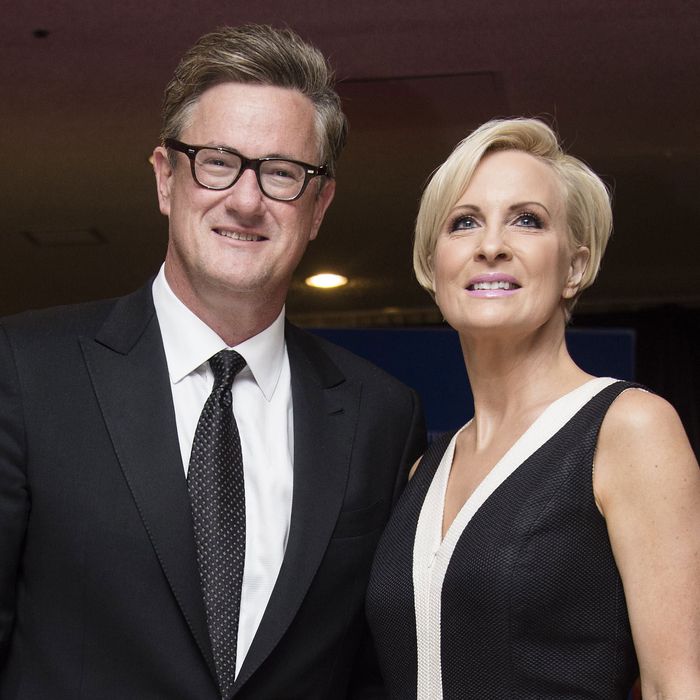 Joe and Mika.
Photo: Nicholas Kamm/AFP/Getty Images
Like so many other mornings, President Donald Trump began Wednesday watching TV and sharing his thoughts on Twitter. According to the White House schedule, his day wouldn't officially begin until an intelligence briefing at 11 a.m., but for the several hours preceding, he busied himself on Twitter: firing off commentary to Fox & Friends, distributing anti-Muslim videos, praising himself, calling for a boycott of CNN, and encouraging the dismissal of NBC and Comcast executives for promoting "fake news." Then, at 9:14, shortly after Morning Joe ended, he sent this:
The "'unsolved mystery'" to which he referred took place in 2001, a few months after then-Congressman Joe Scarborough announced that he planned to resign. On the morning of July 19, two constituents entered Scarborough's Florida district office to find the body of Lori Klausutis, his 28-year-old constituent-services director. A medical examiner would ultimately rule that Klausutis died when she lost consciousness and collapsed into a desk and hit her head due to an undiagnosed heart condition. Authorities said there were no signs of foul play. "We know for a fact she wasn't whacked in the head because of the nature of the injury," the medical examiner told the media, according to the Associated Press. Nevertheless, Klausutis's death has for years been a subject of speculation among what Gawker once called "a surprisingly varied cross-section of armchair conspiracy theorists and Poirots."
Which brings us to the president. In a statement provided to New York by NBC, Scarborough's co-host and fiancé, Mika Brzezinski, said: "I'll speak for Joe and myself here because Joe has stated that responding to President Trump's tweets are a waste of his time. Today the president crossed another deeply disturbing line. With his attack on Joe this morning, the chief law enforcement officer of the United States of America advanced a false conspiracy theory to intimidate the press and cause a chilling effect on the 1st Amendment. Joe and I are not intimidated and his bizarre behavior contravenes both the Constitution and basic moral judgment. This is all we are going to be saying on the matter. We continue to focus on more pressing issues like the nuclear conflict with North Korea. We hope the president will do the same."
Asked what Trump meant when he said, "investigate!" in regards to Klausutis's death, neither White House communications director Hope Hicks nor Press Secretary Sarah Huckabee Sanders had any response.
"It's awesome," a former adviser to Trump told New York of his decision to attack Scarborough over Klausutis's death. But a second former adviser disagreed. "I think the president is playing a dangerous game," the source said. "His own accusers, credible or not, nearly ruined him. Dabbling in this stuff is inadvisable."
Inadvisable, but apparently irresistible. Trump's commitment to petty conflicts is legendary. His fight with Rosie O'Donnell, for instance, has endured for over a decade, through a presidential election and an inauguration. It's safe to assume that Joe and Mika, who were once his friends, are in for a similarly long haul — and so is every other American.