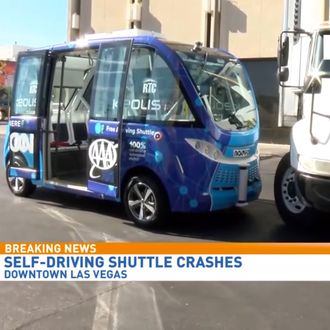 Photo: KSNV News 3 Las Vegas
As Socrates once famously said, "Whooooooooops!" Yesterday was a big day for the city of Las Vegas, which began a trial run of self-driving shuttles on its city streets. About an hour after the trial began, tragedy struck in the form of an 18-wheeler, which backed into a shuttle while it was carrying passengers. Nobody was hurt, and the human truck driver was found to be at fault in the situation, but still, for self-driving skeptics, it's not a great look.
The shuttle test is being touted as the first of its kinds, and is sponsored by AAA. The vehicles are made by French start-up Navya and amble along at 15 miles per hour on a route less than a mile long, according to Engadget.
In a statement, a rep for Las Vegas told local station KSNV:
The autonomous shuttle was testing today when it was grazed by a delivery truck downtown. The shuttle did what it was supposed to do, in that it's sensors registered the truck and the shuttle stopped to avoid the accident. Unfortunately, the delivery truck did not stop and grazed the front fender of the shuttle.
Nobody was injured in the incident, and police gave the truck driver a citation. A spokesperson for AAA said on Twitter, "No one [was] hurt except a bruised bumper!" The yearlong shuttle trial began after a successful shorter test in January.
For more footage of the world's most boring accident scene, check out the news report below.