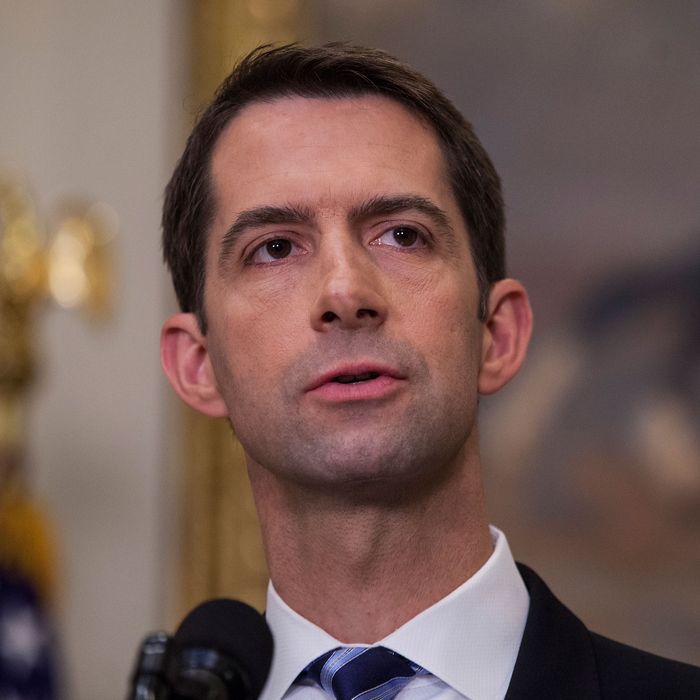 Cotton ain't soft.
Photo: Zach Gibson/Pool/Getty Images
On Thursday, a key group of Senate Republicans met with President Trump and promptly declared that they would not support any year-end spending bill that included protections for undocumented "Dreamers."
"We definitely ruled out putting any kind of DACA package on the omnibus bill. Period — end of story," Arkansas senator (and stalwart immigration restrictionist) Tom Cotton told reporters upon leaving the White House.
Senate Majority Whip John Cornyn echoed this sentiment. "This is not going to be part of the year-end omnibus or CR and it's (going to be) coupled with some other border security and interior enforcement."
This was a significant development. In September, Donald Trump ended the Obama administration's Deferred Action for Early Childhood Arrivals (DACA) program, which provided undocumented immigrants who'd been brought to the U.S. as children with the opportunity to apply for two-year work permits. If Congress does not pass some legislative replacement for that program, then 800,000 U.S.-raised, gainfully employed immigrants — with deep ties to American communities, churches, corporations, and other civic institutions — will lose their legal status, en masse.
There is no precedent in our nation's history for such a development. And there is little question that it would spark mass protests and condemnations from across the political aisle. By contrast, providing DACA recipients with some form of legal citizenship is extremely popular — in some polls, such a measure enjoys majority support among Trump voters.
But the GOP's nativist wing is intensely opposed to any form of "amnesty." One of the only coherent policy demands of Steve Bannon's insurgency is that Republicans abandon the Dreamers to their fate. Thus, what Republicans need is a means of allowing their conservative rank and file to vote against a DACA fix, without subjecting the rest of the party to the toxic political consequences of Breitbart's immigration platform.
Last month, Paul Ryan (reportedly) concluded that the spending bill would be the ideal mechanism for such a gambit. This made sense: The House Speaker will already need to work with Democrats to keep the government running this December. This is because many House conservatives will not vote to fund the government unless they're allowed to simultaneously take food and shelter away from the poor, and Medicare benefits from the elderly — measures that would be unlikely to secure 50 votes in the Senate, let alone the 60 required for spending bills. Thus, tacking protections for Dreamers onto the spending bill allows Freedom Caucus members to cast their purity votes, rail against the traitorous leadership, and avoid facing any political blowback from their cruel and unpopular policy preferences. Meanwhile, more moderate Republicans — who want an excuse to vote for a DACA fix — can claim that they only did so to keep the government's lights on. But now, that path has been foreclosed.
In their remarks to reporters, Cotton and Cornyn signaled that they were still interested in cutting a DACA deal, eventually. And while President Trump released a long list of extreme demands for any DACA fix last month — including funding for a border wall and giant cuts to legal immigration — the Republican senators appeared much more flexible.
But it's hard to see how it will be easier to pass a DACA fix in nonmandatory legislation early next year — when the GOP primary season will be in full gear — than to do so as part of a spending bill this December.
One day after the Senate nixed the idea of fixing DACA in the omnibus bill, Bannon appears to have gotten the chair of the National Republican Congressional Committee to oppose any DACA fix whatsoever. As the Guardian reports:
Steve Bannon, head of conservative news site Breitbart.com, and Steve Stivers, the chair of the National Republican Congressional Committee (NRCC), agreed on Friday that a legislative fix to grant legal status to undocumented immigrants brought to the country as children "would tear apart the party and hurt Republican candidates in 2018", according to a source familiar with the meeting…Bannon pledged to Stivers that he would not focus on unseating House incumbents in the 2018 election, only on ousting McConnell and McConnell's Senate allies.
Procrastination isn't going to make Bannon's forces easier to beat back. What's more, putting off the DACA measure jeopardizes Democratic support for keeping the government running — California senator Kamala Harris has already pledged to vote against any spending bill that doesn't include a solution for Dreamers, and Nancy Pelosi has previously suggested that she just might encourage her caucus to do the same.
Maybe congressional Republicans know what they're doing here. But over the past ten months, they've given us every reason to assume the opposite.