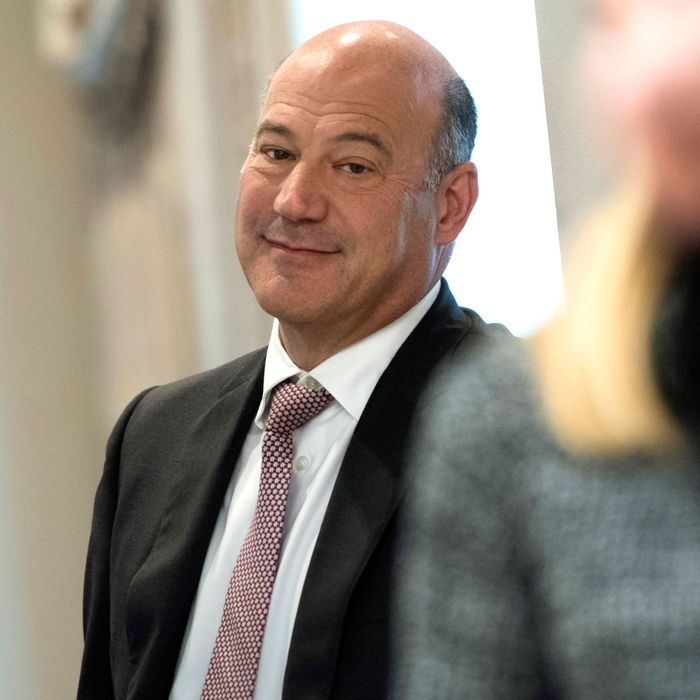 Bad to the Cohn.
Photo: Kevin Dietsch-Pool/Getty Images
President Trump loves a sycophant. And while Gary Cohn, the White House's director of the National Economic Council, is typically a reliable bootlicker, he has occasionally strayed off course.
In August, for example, Cohn annoyed Trump by criticizing his response to the white-nationalist protests in Charlottesville. Unlike Trump, who saw good people among both the neo-Nazis and those protesting them, Cohn, who is Jewish, condemned only those who wore swastikas. This reportedly annoyed Trump, who allowed Cohn to keep his job but nixed him from consideration for a new, more prestigious one.
Now we have another story about Cohn straying from the light, and it comes courtesy of Senator Tom Carper. Speaking on CNN Wednesday, the Delaware Democrat recalled a recent conversation about tax reform between several administration officials, Cohn among them, and a handful of Democratic senators.
During the meeting, Trump called in from Asia and began talking, Carper said. After listening to the president ramble for far too long, Carper wanted to get back to the matter at hand.
"Fifteen minutes later the president is still talking and I said to Gary — we're all sitting around this big square table and I said, Gary, why don't you do this, why don't you just take your cell phone back and just say 'Mr. President, you're brilliant but we're losing contact and I think we're gonna lose you now so good-bye.' And that's what he did, and he hung up," Carper said.
CNN's John Berman asked for clarification. Did Cohn actually pull the old "bad reception" trick and hang up on Trump? "Well, I wouldn't — I don't want to throw him under the bus," Carper said. Then he did exactly that, adding, "But yes."