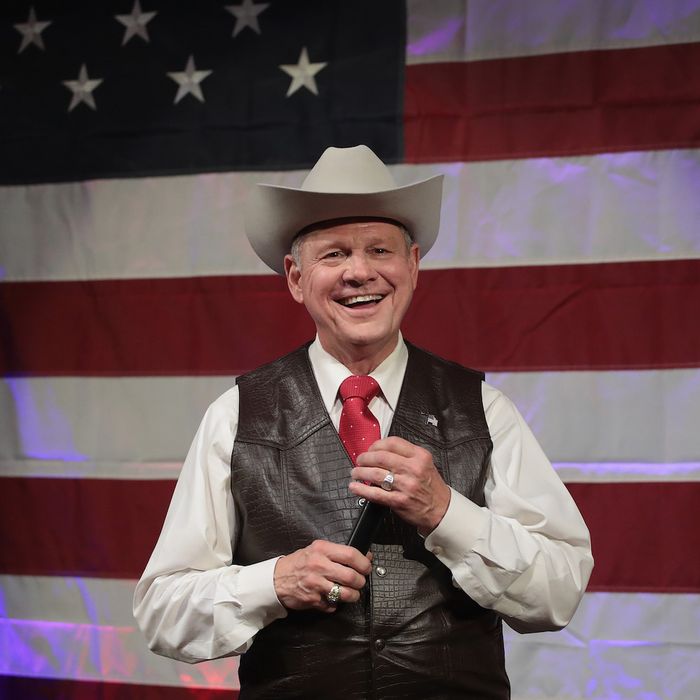 Still in it to win it.
Photo: Scott Olson/Getty Images
Senator Bob Corker became the latest Republican to publicly distance himself from Alabama Senate nominee Roy Moore, two days after the Washington Post published allegations that Moore had initiated sexual encounters with teenage girls while he was in his 30s.
On Friday night, Senators Steve Daines of Montana and Mike Lee of Utah rescinded their endorsements, breaking from many GOP colleagues who had attached the phrase "if true" to their condemnations of Moore's behavior — a stance that seemed increasingly untenable as the weekend rolled around.
With institutional support collapsing around him, Moore held a press conference in Alabama on Saturday, in which he denied any sexual misconduct and employed the time-honored tactic of blaming the liberal media for everything. He cast the Post reports as a calculated attempt to discredit him weeks before the Senate election, which takes place on December 12. "People have waited to four weeks prior to the general election to bring their complaints," he said. "That's not a coincidence. It's an intentional act to stop a campaign."
On Friday, Moore had appeared on Sean Hannity's radio show, during which he bobbed and weaved around the revelations in the Post story, claiming amnesia on many key questions but unhelpfully clarifying that if he had dated any underage girls, he would have asked their mother for permission first. He appearing to outright deny only the allegation involving Leigh Corfman, who says Moore engaged in sexual activities with her when she was 14 and he was 32. (Corfman, for her part, issued a statement standing by her story.)
Meanwhile, a poll taken after the Post report showed that Doug Jones, the Democratic candidate, had pulled even with Moore, a stunning result in one of the deepest red states in the country.
As the gravity of their predicament began to sink in, desperate Republicans mulled over various strategies to avoid blowing the race, including fielding a write-in candidate or pressing Alabama governor Kay Ivey to move the election altogether. (Ivey said on Saturday that she had "no plans" to do so.)
But in an era when an outsider has taken over the Republican Party and base voters view "Establishment" leadership with undisguised disdain, it may not be so simple. As the Washington Post's Paul Kane put it, "the tools available to Senate Majority Leader Mitch McConnell (R-Ky.) and other Washington figures to drive him out of the race either no longer exist or have been rendered impotent by the rise of a new political structure." A Republican source close to Senate leadership told Axios that McConnell and his colleagues do not have the backbone to take on [Steve] Bannon." Ultimately, it may take President Trump's intervention to force Moore out. On Saturday, the president said he had no comment on the matter, claiming he hadn't paid attention to the story because he is too busy "reading documents" to watch television.
Of course, as Corker acknowledged in his tweet, Moore's history of outrageous behavior extends well beyond his alleged treatment of teenage girls. He has said that homosexuality should be illegal, thinks Muslims should not be allowed to serve in Congress, and repeatedly has failed to uphold the Constitution as a judge and chief justice. None of these disqualifying factors (and there are many others) were a "bridge too far" for most Republicans, or for Alabama primary voters. But now, finally, his path to a United States Senate seat may truly be imperiled. The next month will show just how far outsider credibility goes in Alabama.