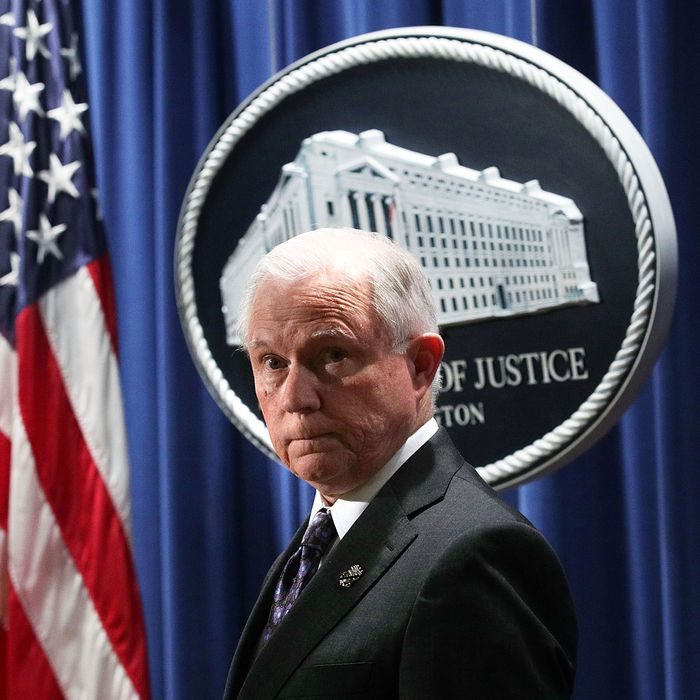 Weed killer.
Photo: Alex Wong/Getty Images
Attorney General Jeff Sessions on Wednesday suggested that the federal government is preparing to crack down on recreational marijuana, a move that he's been expected to make since he took over the Justice Department.
The only surprise is that Sessions is nearly a year into his term as attorney general and he hasn't changed the federal marijuana enforcement policy yet. It's not for a lack of trying. Earlier this year Sessions convened a task force to, many believed, provide him ammunition for a crackdown on legalized weed. Instead, the group of prosecutors and law enforcement officials wrote a report supporting existing policies. As of two weeks ago, those policies remained in place, the famously weed-wary AG told Congress.
But Wednesday, Sessions said changes are afoot.
"We're working on that very hard right now," he said when asked if the federal government's deference to the states on legalization would be changing. "We had meetings yesterday and talked about it at some length. It's my view that the use of marijuana is detrimental and we should not give encouragement in any way to it."
"We are working our way through to a rational policy, but I don't want to suggest in any way that this department believes that marijuana is harmless and people should not avoid it," he added.
Sessions's comments came during a press conference concerning DOJ initiatives to combat the opioid epidemic, a problem that, coincidentally, is reduced in states where people have access to marijuana.