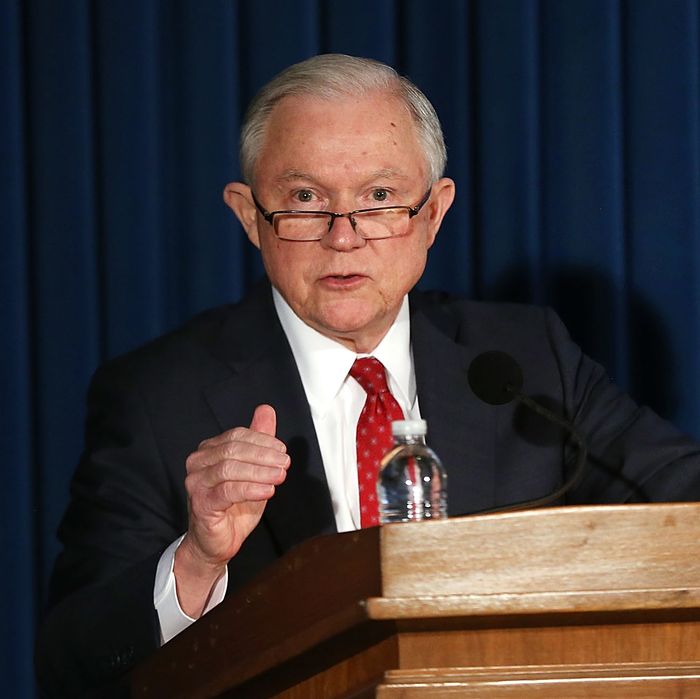 Republicans probably shouldn't get too excited.
Photo: Spencer Platt/Getty Images
A letter from the Justice Department to congressional Republicans reveals that Attorney General Jeff Sessions has directed senior federal prosecutors to evaluate the lawmakers' request for investigations into a number of matters related to Hillary Clinton, the Clinton Foundation, the Uranium One sale, and former FBI director James Comey's leaks about his conversations with President Trump.
House Judiciary Committee chair Robert Goodlatte has called on Sessions to appoint a special counsel to investigate a slew of allegations related to various Trump foes. The response to Goodlatte's letters, which were sent in July and September, comes a day before Sessions is set to testify before the committee. Ten days ago, President Trump repeated his frequent complaint that the Justice Department isn't investigating Democrats, saying it's "very discouraging" that they're not "going after Hillary Clinton."
While the Justice Department is part of the executive branch, it's supposed to operate free from political pressure. Trump said he thinks it's the "saddest thing" that presidents aren't supposed to meddle in Justice Department affairs.
In the letter, Assistant Attorney General Stephen E. Boyd tells Goodlatte that Sessions has "directed senior federal prosecutors to evaluate certain issues raised in your letters," and the prosecutors will "report directly to the Attorney General and Deputy Attorney General, as appropriate, and will make recommendations as to whether any matters not currently under investigation should be opened, whether any matters currently under investigation require further resources, or whether any matters merit the appointment of a Special Counsel."
Boyd says the letter is not confirmation that the Justice Department will launch investigations into Goodlatte's concerns, nor does it indicate if any topics seem particularly promising. He pointed out that the department's inspector general is already investigating some elements of the Clinton email case, and said that after those probes are completed, the department will determine "what, if any, additional steps are necessary to address any issues identified by that review."
The letter raised concerns that Sessions may see appointing a Democrat-focused special counsel as a way to get back in Trump's good graces. The president has said he would not have appointed Sessions had he known that he would recuse himself from the investigation into his campaign's alleged Russia ties. The New York Times reported the political implications may be on Sessions's mind:
People close to the White House said there might be another issue at play: Mr. Sessions might be able to forestall the president's firing him by appointing a special counsel to investigate the uranium deal.
Trump has reportedly been asking advisers why Mueller isn't investigating the Uranium One deal. When told Mueller is only looking into Russia's election-meddling, Trump countered that the deal involved Russia. Conservatives claim the Clinton Foundation took large donations in exchange for Clinton's support of the purchase of the Canadian company by Russia's nuclear-energy agency, but there's no evidence that she took part in discussions about whether the Obama administration should approve the sale.
One of Trump's favorite Fox News hosts, Jeanine Pirro, regularly denounces Sessions for not probing Uranium One, and according to the Times, she recently met with Trump about the matter:
In an Oval Office meeting on Nov. 1, Ms. Pirro said that a special counsel needed to be appointed, according to two people briefed on the discussion. Through a Fox News spokeswoman, Ms. Pirro said, "Everything I said to President Trump is exactly what I've vocalized on my show, 'Justice with Jeanine.'"
Representative Adam Schiff, the ranking Democrat on the House Intelligence Committee, warned that the letter represents a threat to the DOJ's independence.
Brian Fallon, who served as the Clinton campaign's press secretary, suggested that the Justice Department letter was released to distract from new revelations that Donald Trump Jr. communicated with WikiLeaks during the campaign.
"Like clockwork, just as we learn of damning details of Donald Trump Jr.'s contacts with WikiLeaks, the Trump administration is firing up the fog machine to distract from the Mueller probe," Fallon told the Washington Post.
However, Benjamin Wittes, the editor-in-chief of the Lawfare blog, offered another possible explanation: The letter is merely meant to lay the groundwork for the DOJ to tell Goodlatte that they will not be investigating various conspiracy theories popular on the right.
Steve Vladeck, a professor of law at the University of Texas School of Law, agreed with that assessment: