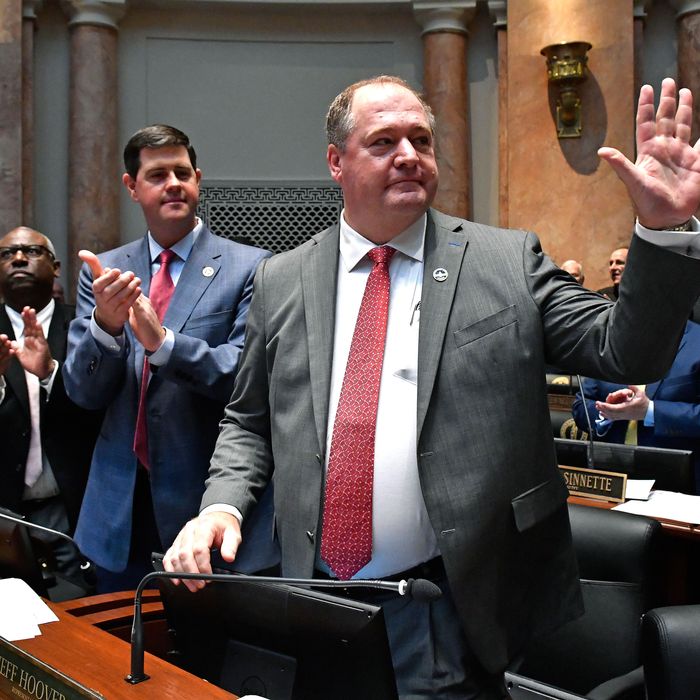 Former Kentucky House speaker Jeff Hoover, who resigned after a sexual-harassment charge.
Photo: Timothy D. Easley/AP
One lawmaker trapped a lobbyist in his office to show her his "raging boner." Another asked an intern the color of her panties on the Senate floor. And another regularly gave a Capitol staffer long hugs and then grunted in her ear.
Those are just a few of the many stories of sexual harassment and assault that have been told in state capitols in the past month. Emboldened by the women in Hollywood who exposed producer Harvey Weinstein's crimes, women in capitol buildings across the country have come forward with their own stories of abusive men in positions of power. This has ignited scandals in at least 14 states, and it seems a near-certainty that more are to come.
Arizona
Earlier this week, Rep. Michelle Ugenti-Rita, who previously said she was harassed in the state capitol, came forward and named the man. Rep. Don Shooter, she told a local TV station, has harassed her for years, inviting her to his room, professing his love for her, and commenting on her breasts. That opened the floodgates. By the end of Wednesday, two other lawmakers and a lobbyist had come forward with their own accusations against Shooter. The Yuma lawmaker, who is known "around the state capitol as a politically incorrect, booze-loving jokester," denies the charges.
California
In early October, lobbyist Adama Iwu was at a political event when a man "touched her inappropriately." Incensed, she vented to a friend. That venting soon became a letter with around 140 signatures that was published in the L.A. Times declaring that women working in Sacramento had had enough.
"Each of us has endured, or witnessed or worked with women who have experienced some form of dehumanizing behavior by men with power in our workplaces. Men have groped and touched us without our consent, made inappropriate comments about our bodies and our abilities," the letter said. It's been nearly a month now since it was published and the story in Sacramento has not gone away, and it won't any time soon. The State Senate recently hired outside investigators to dig into the problem and their first task is to hold public forums to outline a plan of action.
Florida
Six different women from both parties who work as lobbyists and staffers in Tallahassee say Republican senator Jack Latvala, who's running for governor, has spoken to or touched them inappropriately in the past several years. One woman accused Latvala of giving her long hugs that ended with a grunt in the ear. Another said he "touched the places on my body where only my bikini touches." Called an "absolute hound" and "a dirty old man," Latvala denies ever touching the women and says he's passed a lie detector test to prove it. "I've put up. Now it's time for other people to shut up unless they've got some other kind of evidence," he said Friday.
Illinois
"Every industry has its own version of the casting couch," reads an open letter circulated in Springfield and signed by more than 150 people. "Illinois politics is no exception." The letter alleges a culture of rampant sexual harassment in Illinois politics and urges women to come forward with their stories. Several have, including one who named Sen. Ira Silverstein as her harasser. The Democrat was quickly stripped of his leadership position but remains in office, despite the three leading Democratic candidates for governor in the state calling on him to resign.
Iowa
In 2013, the then–communications director for Iowa Senate Republicans was fired just hours after complaining to her bosses about sexual harassment. Kirsten Anderson would go on to win a $1.75 million settlement for her firing, but that didn't lead the state legislature to set up safeguards to prevent such things from happening again. It took the national public outcry about sexual harassment to do that, and on Friday, the body began looking for a human-resources director to conduct anti-harassment training.
Kansas
At some point during her time in Topeka, Abbie Hodgson, a former speechwriter for Gov. Kathleen Sebelius, requested a copy of the legislature's sexual-harassment policy. As she wrote in the Kansas City Star this week, she can't remember the incident that prompted her to make the request because harassment was so common. Other Topeka-based legislative staffers and interns have also come forward with stories of being made uncomfortable by men in the Kansas legislature, one of whom greeted an intern by asking, "Hey, do your panties match your outfit?"
Kentucky
It began with Rep. Jeff Hoover, the now-former speaker of the Kentucky State House, who resigned from that position after admitting to exchanging "inappropriate text messages" with an employee in the House Republican leadership office. But he wasn't the only the one. Several other GOP lawmakers signed a harassment settlement with the same staffer and the state's Republican governor has called on all of the men involved to resign.
Massachusetts
House Speaker Robert DeLeo ordered a review last week of the state's policies on sexual harassment after a Boston Globe article revealed "a climate of harassment and sexual misconduct" on Beacon Hill. The piece by Yvonne Abraham included anecdotes about a lobbyist who was told to sleep with a lawmaker to get his vote, a capitol employee who was told to kiss a legislator's ring while his hands were in his pocket, and a collection of male lawmakers gathered around a phone looking at porn.
Minnesota
At least two lawmakers in Minnesota have come under fire this month for harassing women in St. Paul. Among the accusers is State Rep. Erin Maye Quade who said fellow Rep. Tony Cornish texted her often to comment on her appearance. A lobbyist has also accused Cornish of cornering her in his office at the end of a meeting and saying, "I have a raging boner. You can't leave." DFL senator Dan Schoen has also been accused by several women of making unwanted advances. One told the Star Tribune that when she was running for office, Schoen said he could tell if a candidate was canvassing by looking at her butt. "Yep, yep. That's a good door-knocking ass," he said after groping her.
Ohio
In late October, Ohio senator Cliff Hite resigned after a legislative employee complained about his relentless pursuit of sex with her. He had needs, he reportedly told her, including oral sex. When she rejected him, he asked again. And when she complained, he was forced to resign. Now leaders in the state legislature want to institute sexual-harassment training, but female lawmakers are saying that's not enough. "If we want to end harassment, we must work to close gaps in gender equality, increase the number of women in the legislature and in leadership roles, and continue to convey that we have zero tolerance for harassment in our legislature," Sen. Charleta Tavares wrote in a letter signed by 34 other women.
Oklahoma
The Sooner State is ahead of the curve when it comes to exposing its toxic cultures of harassment. In February, Rep. Dan Kirby resigned after a fired staffer said she had been sending him nude photos. She felt trapped, she said, and worried that she would lose her job if she didn't send the pictures. She lost her job anyway and filed a wrongful-termination suit. Soon after, another lawmaker was accused of making a high-school page uncomfortable. And these are not isolated incidents, one legislative assistant said. "These claims are frequent — unwanted touching, comments on body parts, specific body parts … Really just awful things," she said.
Rhode Island
When Rep. Teresa Tanzi revealed in October that a government official told her that legislation would go further if she performed "sexual favors," she got a different reaction from men than she did from women. "Geez … this hits so close to home. That's amazing. I wish I could say more," a male colleague told the Providence Journal. Meanwhile, a woman who once served in Providence said, "I'm not surprised."
South Dakota
Samantha Spawn is a lobbyist in Pierre who was raped in March by a man who works in the capitol. But she didn't report it, she told the Argus Leader, because, "With the culture of hypermasculinity out there, who was going to believe me?" She's not the only women with a story about abuse in the South Dakota capitol. Former Sen. Angie Buhl O'Donnell shared hers on Facebook. It involved former House Majority Leader Brian Gosch talking about her breasts and her nipples and incessantly asking for a hug. He told the Argus Leader he was only joking.
Washington
"It was very clearly a pat on my heinie, not my waist," Rep. Jessyn Farrell told The News Tribune about an encounter with a male lobbyist in Olympia. Her story was included in an article that exposed the toxic culture in the state capitol, where nine women told the paper of an environment where "inappropriate comments, lingering hugs, unnecessary touching and unwelcome attention are common."