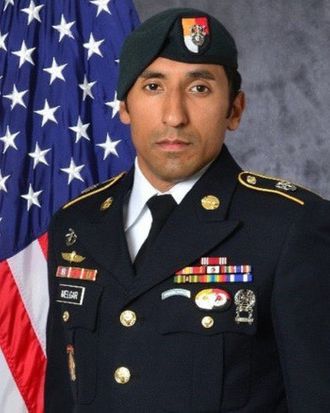 Staff Sergeant Logan Melgar.
Photo: U.S. Army.
Late last month, we learned that two Navy SEALs were under investigation for the mysterious death of an Army Green Beret in June. It appears Staff Sergeant Logan Melgar, 34, died in embassy housing in Bamako, Mali, on June 4. The Intercept reported that one of the SEALs is Petty Officer Anthony DeDolph, a former professional MMA fighter; the other has yet to be publicly identified.
The SEALs initially said they found Melgar dead in the quarters they shared, attempted to revive him, then brought him to an emergency clinic. Then the autopsy found Melgar had died of "homicide by asphyxiation," and they changed their story. According to the Intercept, the SEALs then said they had been "grappling" with Melgar around 5 a.m., and he was put in a "chokehold" — a common MMA move. They said he passed out from the chokehold, and then they took him to a medical facility.
It's unusual for a U.S. soldier to be killed by fellow troops, and that combined with the involvement of the elite SEAL Team 6 operators sparked rampant speculation about the incident. On Sunday night, a possible motive emerged. According to the Daily Beast, two special-operations sources say that Melgar discovered the SEALs were pocketing money from a fund used to pay informants. They offered to cut Melgar in, but he declined.
It's still unclear what occurred during the June 4 altercation, but Melgar lost consciousness and stopped breathing. The sources said he was dead by the time the SEALs and another Green Beret got him to a nearby French clinic.
The SEALs reportedly came up with an alibi even worse than the MMA story. At least one report said Melgar was drunk during their training session, but the autopsy report found no drugs or alcohol in his system. One source believed he never drank alcohol. Melgar's widow reportedly raised concerns about the drinking allegation, and said her husband had told her he had a bad feeling about two of the SEALs he was working with, but would tell her the full story when he got home.
If true, this latest revelation raises questions about how the case was handled by the military. According to the New York Times, Melgar's superiors in Stuttgart, Germany, suspected foul play almost immediately, and an investigating officer was on the scene within a day. The Army's Criminal Investigation Command spent months investigating the case, and it was handed off to the Naval Criminal Investigative Service in September.
Shortly after the incident, the two SEALs were flown out of Mali and placed on administrative leave. No one has been charged in Melgar's death, though the SEALs are now considered "persons of interest." Prior to the Times breaking the story last month, neither the Army nor U.S. Africa Command had issued a statement about Melgar's death.