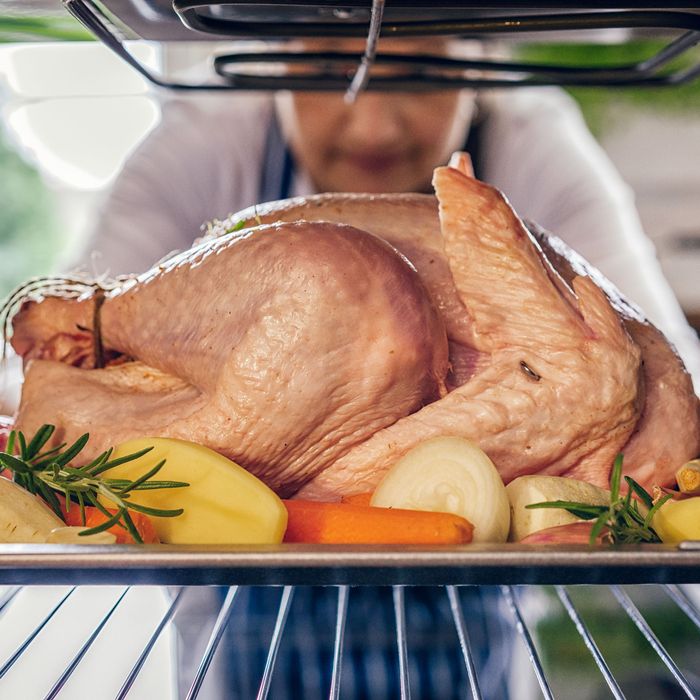 Photo: gmvozd/Getty Images
For many people, the extent of technology's encroachment into Thanksgiving preparation is the use of Google (as in: "is it normal if my turkey looks like this"). That's a shame — gadgets can make your Thanksgiving easier, smoother, and a lot more futuristic. Instead of just shoving some semi-thawed bird into your aunt's friend's oven and hoping for the best, why not spice things up this year with some fancy gadgets and gizmos that'll bring your turkey into the 21st century?
For the turkey
A sous-vide machine
For the unaware, here's the deal with sous-vide cooking: Fancy chefs get their fancy food to taste fancy by vacuum-sealing it and then cooking it in a temperature-controlled water bath using this cool little gadget called an immersion circulator. Turns out, this isn't a chefs-only piece of tech, but can actually be used by us regular Joes to make basically everything taste great. Your Thanksgiving turkey is no exception. If you want a turkey that is mouthwateringly great, with mathematical precision that you can control from your phone, an immersion circulator is the way to go.
Grub Street Editor Alan Sytsma recently broke down the differences between his two favorite sous-vide machines, but we'll link to them both here so you can make the final call.
A smart thermometer
If you're not planning on cooking your turkey in a vacuum-sealed bag inside a large pot of computer-regulated water, you're probably going to need a thermometer of some sort to make sure that bird's cooking correctly. Instead of trying to figure out how to read that $25 Thanksgiving Turkey-Branded Thermometer you got from Whole Foods at the last minute, why not get a smart thermometer instead? It's simple, comes with easy-to-read instructions, and will allow you to check the temp of your turkey from your phone while you do something more important. (I recommend eating stuffing?)
For your sanity
A smart assistant
Photo: Amazon
If you're gonna be in your kitchen for a while, a smart assistant will make your life a heck of a lot easier. Here at Select All, we're big fans of Amazon's Alexa, the smart assistant found in the Echo Dot and others. You can ask Alexa to set a timer for your sweet potatoes, give you a great recipe for cranberries, or even ask which wines will pair best with your meal. (Bonus: If you have one of the two sous-vide machines we recommended, you can use Alexa to control them with just the sound of your voice!)
For everything else
A smart scale
The Drop Scale is a smart scale that connects to your iPhone or iPad in order to help you quickly and easily make great food and discover new recipes. I first used one this summer at a friend's house while making some desserts and it totally blew me away. The Drop Scale is one of those little additions to your kitchen that aren't necessary, per se, but still totally revolutionary. It has hundreds of different recipes built-in and also saves you the hassle of cleaning up a dozen different measuring cups and mixing bowls by condensing everything into one smart scale that you can hook up to your phone or tablet. Think of it as your smart guide to sides and fixings.
A Wi-Fi-enabled Crock-Pot
It's like your old Crock-Pot, only smarter. This six-quart slow cooker connects to Wi-Fi so you can control it remotely from anywhere using its handy-dandy app. You can start cooking a meal, check its progress, and set it to simmer all from your phone — no at-home worrying required.
Heads-up: If you click links and buy things, New York may make a little money off the purchase. That said, we don't recommend stuff we wouldn't buy (or haven't bought) for ourselves.