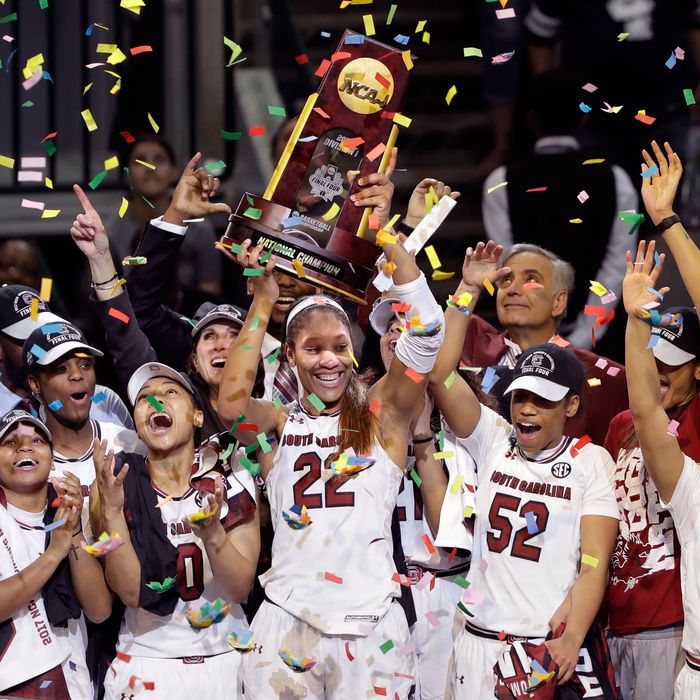 The Gamecocks will not be celebrating their championship with Trump.
Photo: Eric Gay/AP
When President Trump honors a group of recent NCAA champions at the White House on Friday, the University of South Carolina women's basketball team will not be among them.
On Thursday, head coach Dawn Staley said her team was extended an invitation by the White House but has turned it down.
"We did hear from the White House about attending tomorrow's event, but we will not be able to attend," Staley said in a statement. "As I've been saying since our practices for this season started, all of our focus is on the season ahead. The only invitation we are thinking about is to the 2018 NCAA Tournament."
There's more to this story that incompatible schedules, though. When the Gamecocks won South Carolina's first NCAA basketball title in April, Staley said her team would go to the White House if invited, despite the growing public antipathy toward Trump. "It's what national champions do. We'll go to the White House," she said at the time.
Months passed and the White House invitation never came. By late September Staley had moved on from worrying about the honor that had been extended to every NCAA women's basketball champion since 1983. "We haven't gotten an invitation yet and that in itself speaks volumes," she told the AP. She also suggested that the team's willingness to visit the White House had changed since her previous endorsement, which came before "some things transpired over the last few months."
Those quotes caught the attention of Nikki Haley, the U.S. ambassador to the United Nations and former South Carolina governor. Her office promised that the invitation would come later in the fall but, by the time it did, Staley and her team were no longer interested.
The Gamecocks now join a growing list of recent sports teams to not make the customary White House stop after winning championships. The University of North Carolina men's basketball team, which won the NCAA championship in April, was also prevented from visiting because of scheduling issues. The NBA champion Golden State Warriors, meanwhile, were never invited because star point guard Steph Curry said his team doesn't support Trump and his agenda.