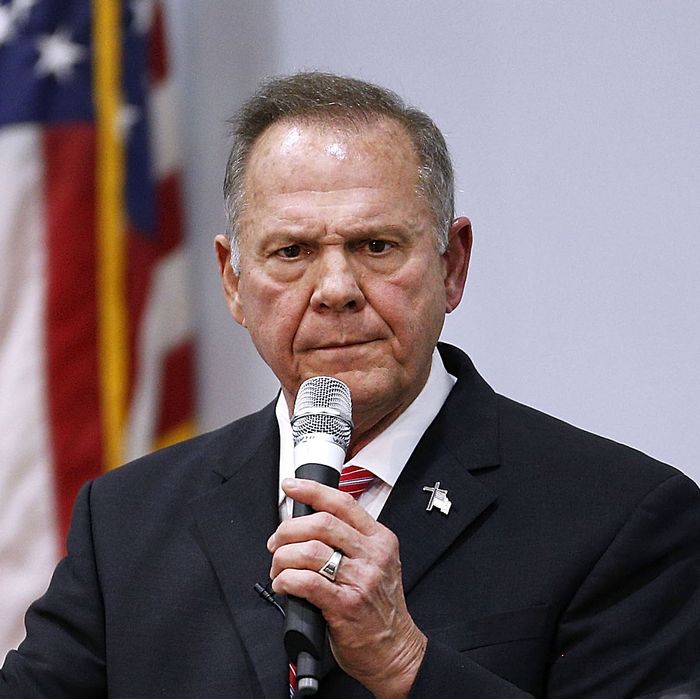 Roy Moore says he's not going anywhere.
Photo: Jonathan Bachman/Getty Images
Alabama Senate candidate Roy Moore called a late-afternoon press conference on Wednesday, briefly raising the hopes of many Republicans. However, rather than announcing he would heed the calls for him to drop out of the race, Moore dug in, trying to cast doubt on the story of a woman who accused him of sexually assaulting her when she was 16.
Over the next few hours several more women came forward, claiming that Moore pursued them when they were teenagers in the late '70s and he was in his 30s. One woman said he grabbed her butt when she came to his office in 1991, as a 28-year-old signing over custody of her son. By the end of the night, the number of women accusing Moore of sexual misconduct was up to nine.
Moore responded with a poorly worded challenge.
Meanwhile, a National Republican Senatorial Committee poll presented a new wrinkle for Republicans: Voters are turning on the alleged child molester running as their party's nominee. The survey, taken Sunday and Monday, showed Democrat Doug Jones up by 12 points in the deep red state. It was also said to show that Attorney General Jeff Sessions would not fare well if he were to try to reclaim his old seat as a write-in candidate.
So now it looks like there's a good chance that the Republicans' democratically chosen candidate might lose the election. Luckily, they have an idea: gracefully accept defeat call off the special election. Per Politico:
With less than four weeks until the special election and no sign that the party's besieged nominee will exit the race, Senate Majority Leader Mitch McConnell and his top advisers are discussing the legal feasibility of asking appointed Sen. Luther Strange to resign from his seat in order to trigger a new special election.
Unfortunately for McConnell, this latest ploy, while creative, isn't a viable option either. Politico reports that McConnell's aides were "uncertain whether such a move, one of several options being discussed, is even possible." Rick Hasen of Election Law Blog confirmed that it isn't.
Hasen said conservative pundit Hugh Hewitt had floated the idea days earlier in their debate about the legal options in the Alabama race. Hasen concluded that this and other wild suggestions would violate the 17th Amendment, which says, in part:
When vacancies happen in the representation of any State in the Senate, the executive authority of such State shall issue writs of election to fill such vacancies: Provided, That the legislature of any State may empower the executive thereof to make temporary appointments until the people fill the vacancies by election as the legislature may direct.
Hasen argues that the duties of the Alabama's governor have been fulfilled: appoint a temporary senator (Luther Strange) and set a special election date (December 12). The fate of the temporary senator does not affect that process:
The governor was mandated to issue a writ of election. Because the writ of election has been already issued to fill a vacancy, the election goes forward under the language of the 17th Amendment. Temporary vacancies filled by the governor don't change that. That's a separate part of the 17th amendment and separate from the duty to issue the writ of election when there is the vacancy of an elected Senator.




Imagine if a temporary Senator appointed until an election died in office, after an election had been called. Under the 17th Amendment, we would not cancel the election already being held under the 17th Amendment requirement for a new election. We would just keep going. It's the same thing for a voluntary resignation by the temporary Senator.
But didn't McConnell ignore the rules to deny President Obama another Supreme Court pick? Why not do it again to ensure that Republicans control the Senate by two votes, not one?
As Hasen notes, that doesn't make sense politically. Even if the maneuver survived a court challenge, Strange and Sessions seem uninterested in sacrificing themselves for the cause. And there's nothing to stop Moore from running again in a new special election.
Plus, late on Wednesday night Alabama Governor Kay Ivey poured cold water on the idea. "The election date is set for December 12. Were [Strange] to resign I would simply appoint somebody to fill the remaining time until we have the election on December 12," she told AL.com.
Other Republican officials in Alabama seem equally uninterested in giving their friends in D.C. a way out of this mess. It's too late to remove Moore's name from the ballot, but the state party could withdraw Moore as their nominee, and any votes for him would not be counted. The steering committee of the Alabama Republican Party met for three hours on Wednesday, but two members told NBC News that the state party continues to support Moore.
So for now, Senate Republicans are pinning their hopes on President Trump coming up with a way to save them — though he appears to have no intention of doing so.
The White House put out a statement saying the president thinks Moore "will do the right thing and step aside" if the allegations are true. But Trump hasn't personally commented on the matter, though some Republicans think he could sway state officials.
"He's the head of the party," Senator Lindsey Graham told the Washington Post. "Yeah, it'd probably be good if he'd say something."
But Wednesday's developments left Trump with even less incentive to do so. His friend Sean Hannity appeared to be backing away from Moore on Tuesday, issuing an ultimatum that he convincingly refute the allegations or exit the race. Moore responded with a letter that did not explain the inconsistencies in his previous interview with Hannity, but the Fox News host proclaimed "we got the answers to the questions that we asked."
Hannity concluded that Moore's fitness for office "shouldn't be decided by me," but by Alabama voters — then floated the possibility of delaying the election so Alabamians can get "all the facts" and make an "educated, informed, inclusive decision."
The Post reports that White House aides have concluded that the president is, in fact, in a bind. If Trump calls for Moore to quit now, he'll be going against his beloved Fox News. And there's the possibility that Moore — who didn't have Trump's support in the primary — will embarrass the president by defying him.
Even worse, if Trump says he believes Moore's accusers it will raise a new round of questions about why the many women who accused him of sexual assault and harassment shouldn't be taken seriously.
"There are no good options," said one White House official.