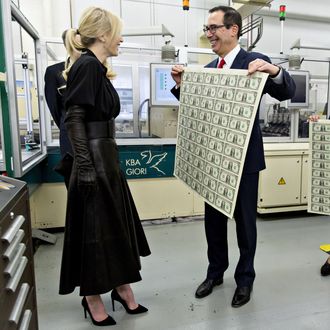 Photo: Andrew Harrer/Bloomberg via Getty Images
Treasury Secretary Steven Mnuchin and his wife Louise Linton stopped by the Bureau of Engraving and Printing to check out some new $1 bills earlier on Wednesday. The dollars will soon have Mnuchin and Treasurer Jovita Carranza's signatures on them, a news item that was promptly eclipsed by several excellent wire photos of Linton — clad in leather gloves — holding a sheet of bills with Mnuchin and looking like a straight-up villain who has never in her life seen a $1 bill before. Cue the memes.
Good luck getting "Cruella de Vil" out of your head.