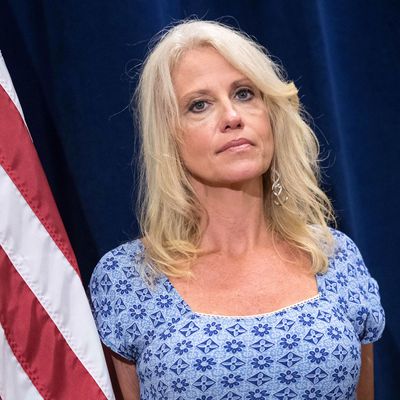 Anything for tax cuts.
Photo: Nicholas Kamm/AFP/Getty Images
Kellyanne Conway didn't quite endorse Roy Moore on Fox & Friends Monday morning, but she may as well have. After Conway criticized Democratic candidate Doug Jones for being a "doctrinaire liberal," host Brian Kilmeade countered with: "So vote Roy Moore?"
"I'm telling you that we want the votes in the Senate to get this tax bill through," Conway responded.
This ultra-pragmatic view contradicted her own words from last week, when she said "there is no Senate seat worth more than a child."
It also went a step further than the administration's previous messaging on the issue, which has been more noncommittal.
Conway did say that Trump won't be joining Moore on the campaign trail in Alabama, so … that's something.