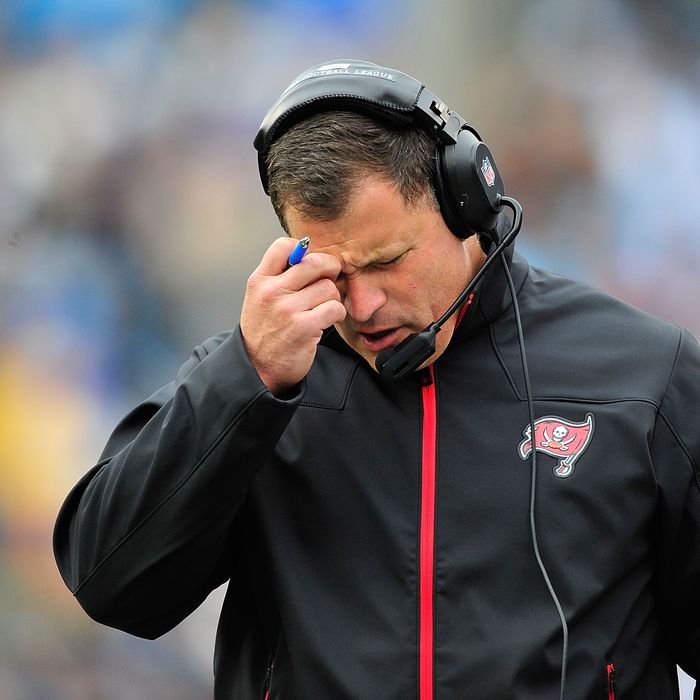 Former Rutgers and Tampa Bay coach Greg Schiano was inking a deal to become the University of Tennessee's new coach when fans and politicians erupted and killed the deal.
Photo: Grant Halverson/Getty Images
The SEC Network's marketing slogan for its college athletics programming is "It Just Means More," an allusion to the college-sports (especially football) craziness of the South. We are seeing a good illustration of the importance Southerners attach to football in the wild and apparently successful reaction to the University of Tennessee's effort to hire the wrong coach for its embattled gridiron program. On Sunday word got out that UT athletics director John Currie was in the process of signing Ohio State defensive coordinator Greg Schiano to become the Volunteers' new coach. Almost instantly there were protests on the UT campus (including Vol fans' favorite vehicle for unhappiness, burning mattresses):
The generally expressed reason for this reaction was Schiano's alleged involvement in the hellish Jerry Sandusky child abuse scandal at Penn State (a deposition by a fellow coach that was made public only in 2016 suggested that Schiano had witnessed, and failed to report, a sex act between Sandusky and a child while he was an assistant at the school. Schiano denied the allegation). What makes the situation remarkable is that Tennessee politicians joined the protests almost immediately. Two state legislators tweeted their opposition to the hire:
Four of the five major Republicans who are announced 2018 candidates for governor of the state also weighed in negatively on the proposed hire, including frontrunner U.S. representative Diane Black:
The pols were careful to make their protests either vague or explicitly focused on the Sandusky allegations. But there remains the suspicion that even without the child abuse suspicions, many fans felt Schiano just wasn't a big enough name for a job they consider one of the best in sports:
Right off the bat, the news was incredibly unpopular. The pipe dream for many Vols fans had been that this opening could lure Monday Night Football announcer Jon Gruden, who once led the Buccaneers to the Super Bowl, away from one of the cushiest jobs in all of sports. Instead, the school turned to Schiano, who like Gruden once coached the Buccaneers, but who unlike Gruden completely failed as their head coach. Schiano's name hasn't been seriously linked to any major college or pro opening since Tampa Bay fired him in 2013—the only person claiming outside parties were interested in Schiano was the man who hired him at Ohio State. The likes of Bill Belichick and Urban Meyer consider Schiano a great defensive mind, and he once turned around a moribund Rutgers program, but his reported hiring indicated that Tennessee would settle for somebody that no other program appeared particularly interested in.
Well, if Schiano wasn't a household name in the state of Tennessee before, he certainly is now, and not in a good way. Vol fans are now coming to grips with the power they exercised over an athletics Establishment that probably figured some lost season ticket sales were the worst they might fear in choosing whoever they wanted. And politicians in Tennessee must think about the precedent they set in intervening instantly with respect to a proposed college-football coaching position. You could definitely see ambitious political underdogs throughout the South trying to get attention and votes by pushing for or against coaching hires, particularly with jobs coming open this year all over the region. Voters may need to know their positions on taxes, education, economic development, and football.