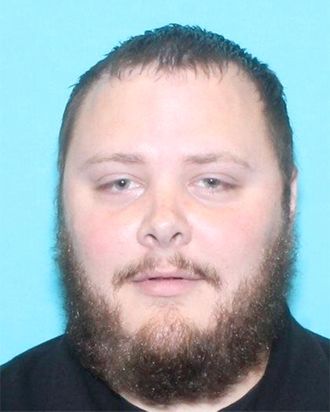 Devin Kelley received a dishonorable discharge from the Air Force for assaulting his wife and her child.
Photo: Texas Department of Public Safety
On Sunday morning, a gunman walked into First Baptist Church in Sutherland Springs, Texas, and opened fire, killing at least 26 people and injuring 20. He then fled in his vehicle, pursued by armed neighbors, and was found dead in his vehicle.
Law-enforcement officials have identified the shooter as Devin Patrick Kelley of New Braunfels, Texas. While much about the massacre — the deadliest church shooting in U.S. history — remains unclear, early details about Kelley's background have raised questions about why he was able to obtain a firearm. Here's what we know so far.
Authorities say Kelley initially stopped at a gas station across the highway from the small church.
Clad in black tactical gear and a ballistic vest, Kelley began firing outside the church at 11:20 a.m. local time. He then continued his shooting spree inside, where the service was in progress. The victims ranged in age from five to 72.
After he emerged from the building, he exchanged gunfire with a man who lives near the church. Kelley fled in his SUV, and was pursued by the neighbor and another local he flagged down. They chased Kelley for several minutes, then he crashed his vehicle into a ditch. He was found dead at the scene.
"The local citizen pursued him," said Freeman Martin, a regional director for the Texas Department of Public Safety. "We don't know if it was a self-inflicted gunshot wound or if he was shot by our local resident who engaged him in a gunfight."
On Monday, Wilson County Sheriff Joe Tackitt said that Kelley was believed to have killed himself after the chase.
Tackitt also said that Kelley had in-laws who had attended the church. Authorities said he sent threatening texts to his mother-in-law, and the Texas Department of Public Safety Regional Director Freeman Martin said that the shooting stemmed from a domestic incident, and was not racially or religiously motivated. The history of domestic violence tracks with many other mass shooters in recent years.
In 2010, Kelley enlisted in the U.S. Air Force, serving as a logistical readiness airman stationed at Holloman Air Force Base in New Mexico. According to Air Force spokesperson Ann Stefanek, he was court-martialed in 2012 for assault on his wife and a child. He was sentenced to a year in military prison and a reduction in rank. He received a bad-conduct discharge in 2014.
On Tuesday, the New York Times reported that Kelley had escaped from a psychiatric facility during his time in the Air Force, had made death threats to his superiors, and had tried to smuggle weapons onto his base.
It is illegal for people convicted of domestic violence to own or buy guns.
Kelley used a Ruger assault-style weapon in the attack, and authorities said they found multiple firearms in his vehicle.
The Daily Beast reported that Kelley recently posted a photo of a semiautomatic rifle on Facebook with the caption, "She's a bad bitch." A law-enforcement source said it was similar to the gun used in the attack, but they could not confirm it was the same weapon.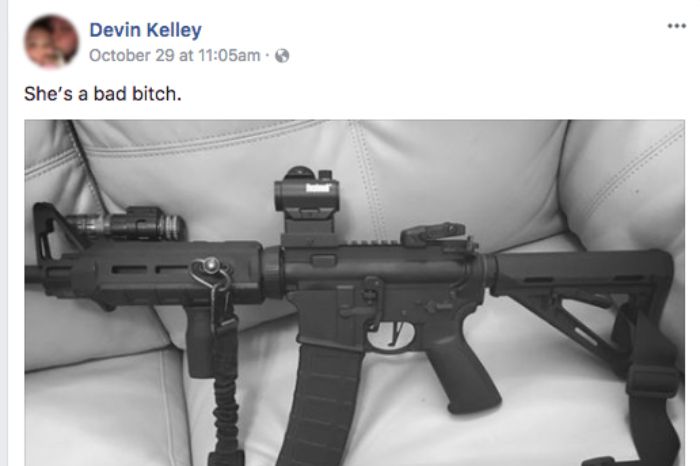 A law-enforcement source told CNN that Kelley purchased a Ruger AR-556 in April 2016 from Academy Sports & Outdoors store in San Antonio. They said when he filled out the background-check paperwork, he checked the box saying he didn't have a disqualifying criminal history, and listed an address in Colorado Springs, Colorado.
Texas Governor Greg Abbott said that Kelley did not have a gun license in Texas, raising more questions about how he was able to obtain his weapon.
New Braunfels is a suburb of San Antonio, located about 35 miles north of First Baptist Church. Kelley grew up in the town, in a home worth nearly $1 million. Police reportedly raided Kelley's current home in New Braunfels on Sunday afternoon.
Kelley's first marriage ended in divorce in 2012. He married in New Mexico in April 2011, and was sued for divorce in October 2012, according to court documents obtained by the Albuquerque Journal. The papers say the couple had no children together, but were living with a child from the wife's previous relationship.
He married again in 2014, and according to CBS News, his second wife's name is Danielle Lee Shields. Kelley's mother-in-law listed a P.O. box in Sutherland Springs as a mailing address.
The New York Times reports that after getting remarried, Kelley briefly lived in Colorado Springs, Colorado, during which time he was charged with animal cruelty for striking his dog in the head.
"I never in a million years could've believed Devin could be capable of this kind of thing," Dave Ivey, the shooter's uncle, told NBC News. "I am numb. … My family will suffer because of his coward actions … I am so sorry for the victims in Texas."