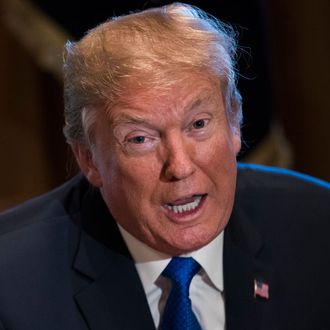 Trump.
Photo: Drew Angerer/Getty Images
After weeks of speculation, we now know who it was that caused — for a brief but blissful 11 minutes — Donald Trump's Twitter account to be deactivated. TechCrunch reports that the man behind the incident was Bahtiyar Duysak, who lives in Germany and worked on the company's Trust and Safety Division.
According to Duysak's account, his last day at the company was relatively normal. Working up until the very end of his shift, an alert came in that Trump had, once again, been reported for violating the site's rules. Writes TechCrunch, "Someone reported Trump's account on Duysak's last day; as a final, throwaway gesture, he put the wheels in motion to deactivate it. Then he closed his computer and left the building."
He was then approached by an acquaintance after reporters began trying to track down who, exactly, had banned Trump seemingly as a final kiss-off. It didn't help that Twitter had framed the act as the work of an employee with nothing to lose, rather than a simple mistake. "I didn't do anything that I was not authorized to do," he told TechCrunch, claiming that he didn't think anyone would actually shut down the account, which is protected as "newsworthy" and thus basically unbannable.
Still, we'll always have those 11 minutes. How beautiful they were.