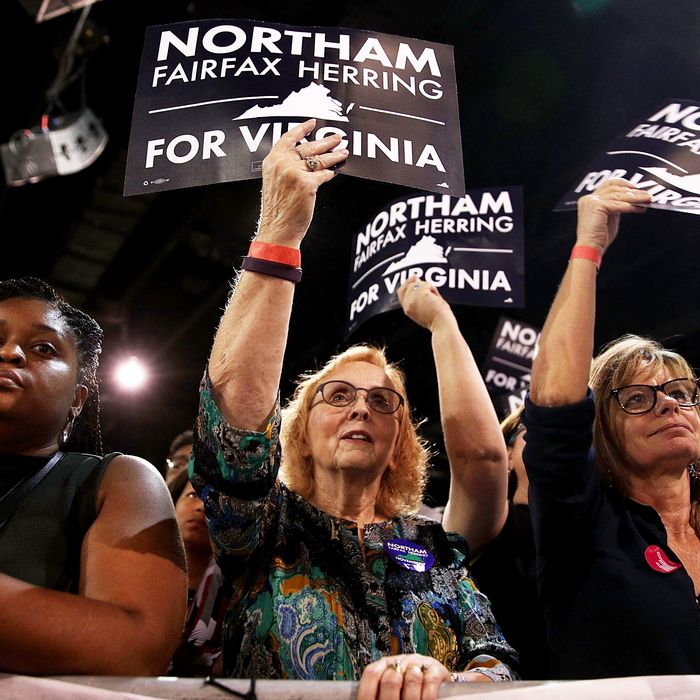 Northam supporters at a campaign event on October 19, 2017, in Richmond, Virginia.
Photo: Alex Wong/Getty Images
While many are still dealing with PTSD-like symptoms from watching the results come in a year ago, another Election Day is upon us. This time, no one is arguing that this is the most significant election of our lifetime, but there are a number of races across the country on Tuesday that will have a significant impact on the political landscape as we head into the 2018 midterms. There are also initiatives on the ballot that could have huge consequences, like opening the door for voters to accept Obamacare's Medicaid expansion against their governor's wishes. Here's a look at the races to watch on Tuesday night.
Virginia Governor's Race: A Preview of 2018?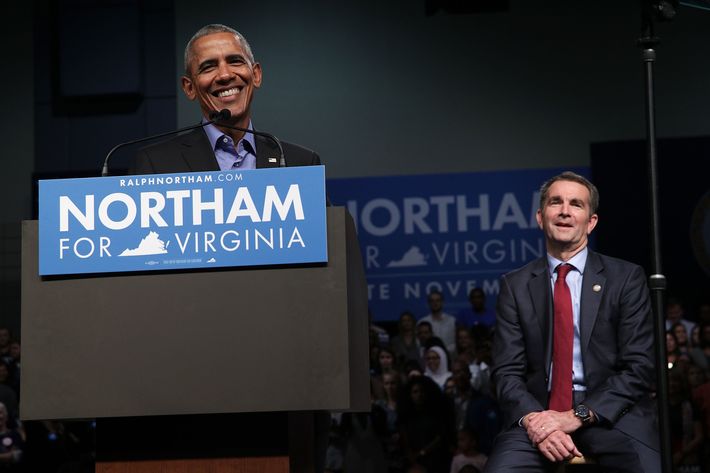 Ralph Northam, Virginia's Democratic lieutenant governor, was once expected to easily defeat Republican Ed Gillespie, a former lobbyist and White House adviser to George W. Bush who's never held office before, in Virginia's gubernatorial race. Hillary Clinton beat Donald Trump in the state by 5.3 points last November, and since then, Democrats have been overperforming (though not actually winning) in special elections nationwide. Plus, even before Trump was elected, the party controlling the White House tended to lose in Virginia gubernatorial races.
But in recent weeks the race has tightened, leaving Democrats worried that they they may see a replay of Clinton's loss on Tuesday. While most polls still have Northam in the lead, on election eve, his lead over Gillespie was down to 3.3 percent in RealClearPolitics polling averages.
Gillespie has gone on the offensive, embracing Trumpian cultural issues, though he was once known for urging his party to appeal to minority voters. Gillespie has vowed to preserve Confederate monuments, attacked incumbent Governor Terry McAuliffe for restoring felons' rights, and criticized Northam for voting against a bill to make "sanctuary cities" illegal. Though Virginia does not actually have sanctuary cities, his ads used that issue to attempt to tie Northam to fears of MS-13 gang violence.
Meanwhile, the Democratic side has been plagued by internecine disputes (Senators Elizabeth Warren and Bernie Sanders backed former Representative Tom Perriello in the primary) and accusations that despite massive support from national Democrats, Northam is running a lackluster campaign — much like Clinton.
While the national implications of the race will be limited if Northam wins, a Gillespie upset would leave Democrats with major fears heading into the 2018 midterms. Aside from the electoral consequences of Republicans taking full control of another state government, it would show that even a longtime creature of the "Swamp" like Gillespie can win local races by adopting Trumpian themes.
Christie's Disappointing Legacy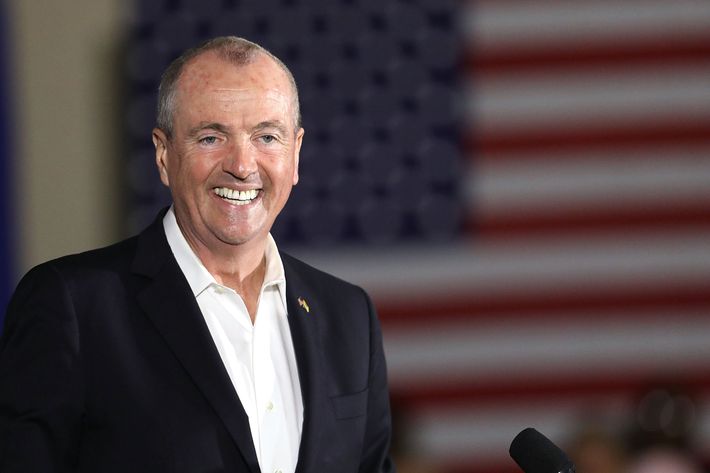 Though it seems to be working in Virginia, turning to the right on immigration isn't doing much good for New Jersey lieutenant governor Kim Guadagno. The Republican gubernatorial candidate is doubly disadvantaged; President Trump is unpopular in New Jersey and current Governor Chris Christie is really unpopular. (The Republican governor's approval ratings were in the teens even before he relaxed on a beach that was closed to the public due to a government shutdown.)
The Democratic candidate, former U.S. ambassador to Germany and Wall Street executive Phil Murphy, has consistently had a double-digit lead in the polls, and he's currently ahead by 14.4 percent in the RealClearPolitics polling average.
The entire New Jersey legislature is up for reelection, too, and it looks like Democrats will hold onto their fairly large majority. Barring some wild upset, it seems that when Christie exits New Jersey politics, the state will become one of the rare Democratic "trifectas," with Dems controlling the executive branch and both chambers in the legislature.
A Test for Utah's New Political Party
Representative Jason Chaffetz wanted to spend the next few years investigating the country's first female president, but like many, he saw his dreams crushed on November 8, 2016. Chaffetz abruptly announced he was retiring from Congress to be a Fox News commentator last summer, and on Tuesday, there's an election in Utah's Third Congressional District to fill his seat.
Republican John Curtis, the mayor of Provo, is almost certain to win the race in the deeply red district. A poll last month gave him a 27-point lead over Democratic challenger Kathie Allen, a physician who has never sought elected office before. But it will be interesting to see how Jim Bennett, of the newly formed party United Utah, fares in the race. Bennett, the son of the late Senator Bob Bennett, sued to get on the ballot and reached the minimum 6 percent threshold to qualify for the congressional debates.
While Trump won Utah, thanks in part to his unpopularity with Mormons, 27 percent of the state voted for independent Evan McMullin. United Utah was formed over the summer for disaffected Republicans and Democrats.
Washington's Super-High-Stakes State Senate Race
While the race for a single state Senate seat in the Seattle suburbs usually wouldn't draw national attention, it does when the outcome will determine what party controls Washington's state legislature.
Washington has a Democratic governor and the party controls the state House of Representatives. Republicans effectively have a one-seat majority in the Senate because one conservative Democrat caucuses with the GOP. A seat opened up when a Republican state senator passed away earlier this year.
National political organizations and wealthy donors like former New York mayor Michael Bloomberg have poured at least $6 million into the race between Democrat Manka Dhingra and Republican Jinyoung Lee, making it the most expensive legislative race in the state's history.
In addition to making Washington the seventh state in the country where Democrats control all levels of government (compared to the 26 states held by Republicans), a win by Dhingra would give Democrats complete control of the state governments all along the West Coast.
The Push to Turn Virginia's House of Delegates Blue
While the gubernatorial race is the main attraction, Democrats across the country are also keeping an eye on Virginia's House of Delegates. Democrats have been winning statewide elections in the purple state since 2009, but Republicans still hold 66 of the 100 seats in the House of Delegates. Clinton won 17 Republican-held districts in Virginia, and most of those races are very competitive. Democrats are expected to gain at least a few seats, and if they can pick up five to ten seats it will be an encouraging sign for Democrats looking to take back the U.S. House in 2018.
Maine Voters May Give 80,000 People Health Coverage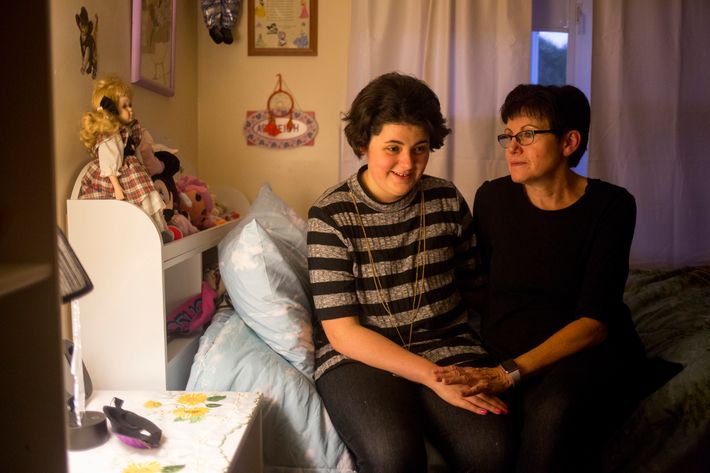 Maine governor Paul LePage has blocked efforts to expand Medicaid in the state under the Affordable Care Act five times, but on Tuesday, voters may overrule him. A ballot initiative will let Mainers decide whether to make Medicaid available to anyone living below 133 percent of the federal poverty line, which would give about 80,000 people access to coverage.
As Vox notes, expanding Medicaid tends to poll well, but there isn't much polling on what Mainers might do. Plus, there may still be ways for LePage to fight against the expansion. But if it passes, Maine will be the first state to expand Medicaid via ballot initiative and it could inspire other states to try to do the same.
New York Considers a 'Con Con'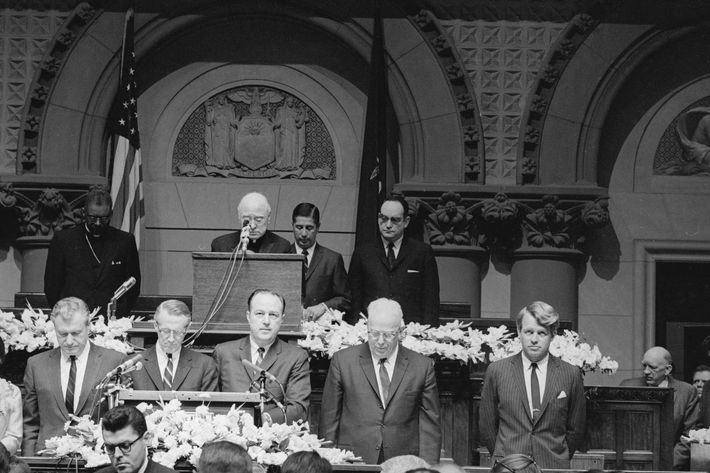 By law, every 20 years New Yorkers are given an opportunity to consider whether to hold a state constitutional convention or a "Con Con." If passed, delegates would be elected to meet in spring of 2019 and decide what changes, if any, should be made to New York's constitution, which hasn't been updated since 1938. Any amendments the delegates come up with would have to be approved by the voters.
As the Village Voice explains, the issue doesn't split along party lines. Many of those in favor of the convention have specific issues they're hoping to see enshrined in state law, from abortion rights to term limits for all state lawmakers. But opponents — most notably the state's major unions — warn that it could also provide an opportunity to weaken labor protections, or invite meddling from right-wing billionaires like the Koch brothers and the Mercers.
Voters rejected a convention in 1997, and its chances aren't looking great this time around. A recent poll from Siena College found 57 percent of respondents plan to vote "no" on the convention, and only 25 percent plan to vote "yes."
Mayor de Blasio Looks to the Future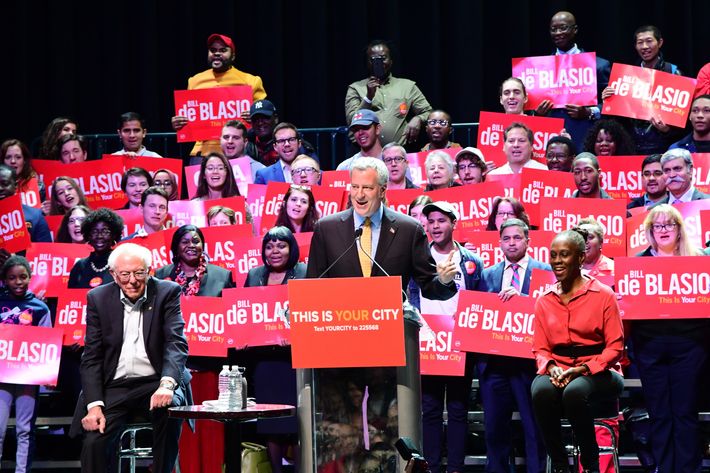 Back in 2013, Bill de Blasio was elected mayor of New York in a landslide, beating Republican Joe Lhota by 49 points. Four years later, the Democratic mayor appears poised for another massive win, though a recent poll had him leading GOP state assemblywoman Nicole Malliotakis by a comparatively measly 42 percentage points.
So what's at stake for de Blasio in a race he's sure to win (unless, perhaps, he hugs President Trump in the middle of Fifth Avenue on Tuesday)? As David Freedlander writes, he's already proven "that a mayor of New York can be aggressively left-wing without the city reverting back to someplace that looks like the soundstage for a gritty '70s film remake." Now he's hoping that another landslide can make him viable on the national stage once more. If he wins big, there will likely be new whispers about running for higher office in 2020 — though historically, the presidential ambitions of New York's mayors have always fizzled.
De Blasio already seems more focused on President Trump than his little-known mayoral rivals.
"We will stand up to Donald Trump every single day," he said, while campaigning with Senator Bernie Sanders. "So long as he's in the White House, this city cannot be as fair as it needs to be unless we take him on."
He's certainly not the only one who will be thinking about what Tuesday's results mean for the wider effort to resist the Trump administration.