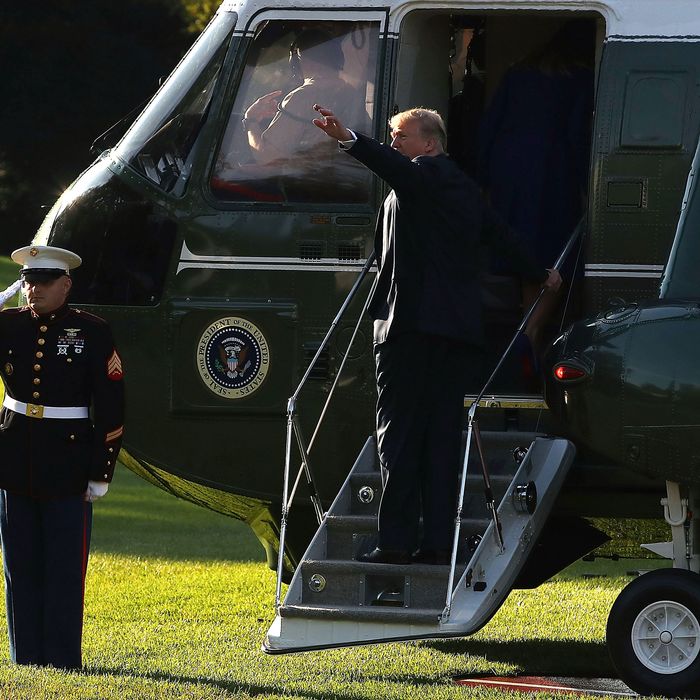 Asia bound.
Photo: Mark Wilson/Getty Images
Like President Trump's previous big foreign trips to Europe and the Middle East, his ten-day Asia trip promises plenty of fodder for GIFs, gaffes, and spectacle. Already, the Economist is reporting that Japanese department stores have put Trump's Virginia wines on sale at large markups. China's ambassador to the U.S. is referring to the level of pomp it plans for the visit as "head-of-state-plus."
Given the troubled history of U.S.–China summits, that "plus" could mean just about anything. George H.W. Bush famously threw up at a banquet, and Bill Clinton had a great humiliation when a staffer had a banner calling the relationship a "strategic partnership" hung, only to have to take it down (in front of reporters) after Cabinet officials vetoed the idea that the relationship with the repressive regime was a "strategic partnership."
But behind the tweets, here are four of the key areas that beleaguered American diplomats will focus on — often with their fingers crossed that the president doesn't do something rash to undermine U.S. interests (or safety):
Keeping the North Korea situation under control. Trump's hosts in Japan, China, and South Korea — who seldom agree on much — broadly share the goal of convincing him to give diplomacy time to work. While many regional leaders seem to discount the president's bellicose tweets, and take seriously the reassurances of career military leaders and diplomats, they are still anxious — and South Korea, in particular, is sitting on an anti-war public. Trump's hosts are caught in an unpleasant dilemma. They do not want to face the bellicose and unpredictable Pyongyang regime without Washington's military might, and so they will seek to make the president happy and look for reassurance that the U.S. will defend them. But they don't want those reassurances to take the form of more coded threats of preventive war, or intimations that "time is running out." And Trump's Cabinet seems as invested as he in ratcheting up pressure. These conversations will be intense. Trump's hosts hope they will remain private. We'll see.
A meeting with Russia? Yes, you read that right. Even as rumors of more Russia-related indictments fly back home, President Trump told Fox's Laura Ingraham that he "might" have a meeting with Russian president Vladimir Putin, because he's important on North Korea. The Russian government didn't confirm that, however, saying instead that a meeting was "being discussed." (That's diplomat-speak for "I might have to wash my hair.") Moscow will use Trump's public ask for a meeting to try to get something from him in return. (What might it be?)
We'll also get a chance to judge whether National Security Adviser McMaster and Chief of Staff John Kelly have gotten enough control of the process that American officials will accompany the president to all meetings this time, unlike his spring meeting with Putin with just a Russian government interpreter present. The media availability after that session should be a real treat, too — American prosecutors will no doubt be taking copious notes.
(Update: on Saturday, Trump confirmed that he plans to meet with Putin.)
Bringing home some bacon: Like most presidential trips, this one will feature big-sounding announcements of trade and investment deals at each stop. Japan will promise to buy American natural gas; China will announce energy investments in Texas and the Virgin Islands. Business commentators are dismissing these as "small potatoes," and suggesting the shopping basket is empty on the really big questions: While our Asian allies want to see the U.S. commit to regional economic partnerships, even after the U.S. departure from the Trans-Pacific Partnership, the voices inside the administration who see U.S. global economic engagement happening on a country-by-country basis seem to be winning. Even there, though, the president has threatened to tear up the U.S.–South Korea trade agreement, and Seoul will be watching anxiously. The White House says the president's speech in Danang, Vietnam, will showcase the administration's answer to Chinese efforts at regional economic integration. Of course, TPP was supposed to be the U.S. answer to Chinese efforts at regional economic integration. Market imbalances and other trade issues with China are real — if the administration has a plan beyond rhetoric, or a set of tools beyond an already-announced government-wide review of U.S. frustrations with China, it hasn't shown its hand. That will make for a smooth visit and good visuals next week; but it is unlikely to produce upticks in jobs or exports for Trump voters, or anyone else, in the years ahead.
Nationalists unite! The Asian diplomatic circuit, where subtlety is prized, and commerce is fondly believed to trump racism, might seem to offer a break from the us-and-them polarization of U.S. cultural discourse. Don't bet on it.
President Trump seems most comfortable with a set of regional authoritarians — Philippine president Duterte most notorious among them— as well as governments in Tokyo and New Delhi which rely heavily on nationalism for their support. These regimes also have significant domestic constituencies in the U.S., so courting them pays off politically at home. The president's last two big international speeches, at the U.N. in September and Poland in July, focused on the sovereignty of individual nations, and the value of strengthening countries from within their own borders to fight cultural and political enemies. That rhetoric will translate quite well to nationalist regimes in Asia. But it's hard to overstate how far that is from 60 years of U.S. rhetoric and policy, where the central themes were shared goals that transcended nationalism as a central path to avoiding bloodshed and privation on the levels Asia saw in World War II. It's also hard to imagine how nationalistic policies help build common pressure against North Korea's Kim Jong-un or deal with shared economic menaces such as piracy and cybercrime.
Buckle your seatbelts. This trip won't be boring.