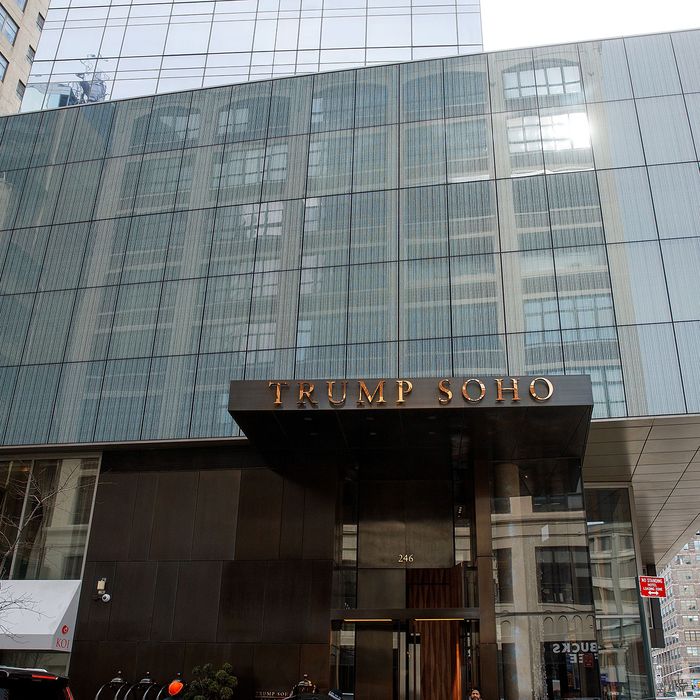 The Trump Soho won't have that name much longer.
Photo: Drew Angerer/Getty Images
Less than a decade after it opened on the site of a forgotten graveyard, the Trump Soho will soon lose the president's name. The Trump Organization, which is run by first sons Eric and Donald Jr., said Wednesday that the company will part ways with the property at the end of the year.
CIM Group, the building's California-based owner, is paying the Trump Organization to end its contract to operate the property years before it expires, the Times reports. The Trump name, it turns out, was too toxic for downtown Manhattan.
That should have been clear from the outset, when nearby residents fought to prevent the 46-floor skyscraper from being built. In 2007, protesters gathered at the site with signs bearing slogans that seem so quaint now, including, "We don't want you hair!" and "Don't comb over here."
But Trump persisted and the hotel opened in 2010. Since then, it's been the subject of controversy surrounding lies told to sell its condos and the involvement of Russian dealmaker Felix Sater, among other things.
Ultimately though, it was Trump's turn to politics that appears to have doomed the property. Pro-sports teams, once reliable patrons, began abandoning the property when Trump started his campaign. By May of this year, it was clear that corporate and room bookings had fallen dramatically since the 2016 election. And when Koi, the popular restaurant inside the hotel, shut down, a lawyer for the ownership group said there was little mystery why.
"Obviously, the restaurant is closing because business is down. I don't think anyone would volunteer to close a business if they were making money," Suzanne Chou told Grub Street at the time of Koi's closing. "Beyond that, I would prefer not to speculate as to why, but obviously since the election it's gone down."