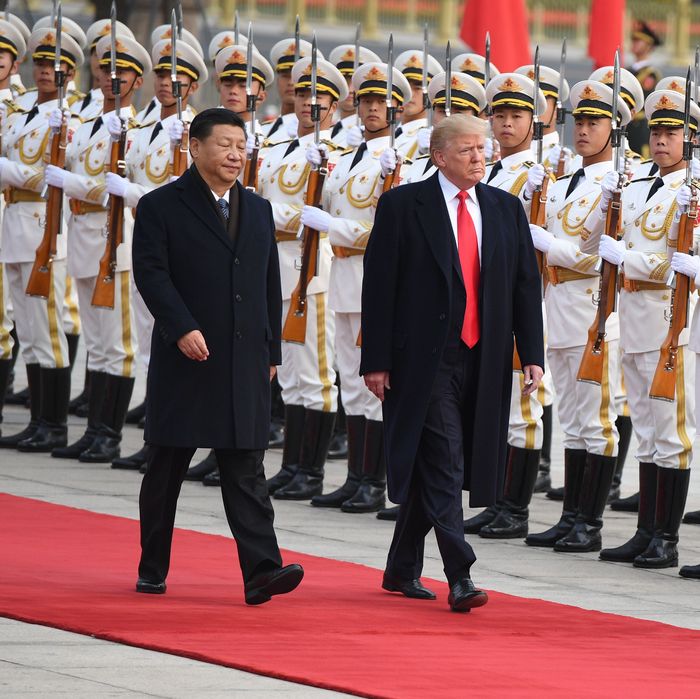 China's President Xi Jinping and President Trump review Chinese honor guards during a welcome ceremony at the Great Hall of the People in Beijing on November 9, 2017.
Photo: JIM WATSON/AFP/Getty Images
President Trump has managed to make it halfway through his 12-day Asia trip without generating any above-the-fold news coverage. While that's partly due to unforeseen headline-grabbing events — like the Democrats' election sweep and the horrific Texas shooting — it didn't help that most of the trip's activities took place while Americans slept. Also, the White House has avoided questions from the press. To get a clearer fix on what's actually happened during this important trip, let's break down the developments so far — and let's do it the way Trump might do on his Twitter feed: by winners and losers.
H.R. McMaster, John Kelly, and the National Security Council staff
They've avoided any major protocol breaches (for the most part), and managed to keep the president from going off-script or rewriting their security agenda on the fly.
Anyone who doesn't want a war with North Korea
Advocates of a conservative, muscular foreign policy have found much to be relieved about. Trump's speech to South Korea's National Assembly was well-received in Seoul and Washington, in no small part because it seemed to commit Washington to South Korea's defense without ratcheting tensions with the North any higher, or bringing the threat of a unilateral first strike on Pyongyang any closer. Those who hope the standoff with North Korea can be resolved via diplomacy were pleased that he seemed to leave the door open to negotiations, although no one is completely convinced that he means what he says.
China
An awestruck American president hefting a solid gold antique vase, or showing off his granddaughter practicing Chinese in an online video? Photo ops don't get much better than that. China dubbed Trump's trip a "state visit plus," a term that hasn't been used for any foreign leader since the Communist Party took power in 1949. That means plenty of pomp and circumstance — including Xi's personal tour of the Forbidden City, cheering schoolchildren, and a banquet in his honor — and supposedly more personal interaction between the foreign leaders.
"China wants good photo ops to show the domestic audience that Xi is equal to Trump, and China is almost guaranteed to get that," Jeff Wasserstrom, a professor of modern Chinese history at the University of California, Irvine, told The Guardian.
The state visit functioned as another lap on Xi's victory tour after the Communist Party Congress handed him unprecedented power last month, making him the first leader since Mao to get his name and ideology in the Chinese Constitution during his lifetime. (Imagine making The Art of the Deal the 28th Amendment to the Constitution. Or maybe don't.)
President Trump's failure to bring up specific trade or security concerns while in Beijing, and his extravagant praise for China's rulers, have sent the rest of the region into a mini-frenzy. "An enormous gift to the Chinese," is how veteran Asia analyst Ian Bremmer describes regional leaders' views of Trump.
Vietnamese textile makers
Insiders speculated whether Trump would go along with the custom of APEC leaders donning colorful traditional shirts from the host country for a "family photo." Trump, very much to his credit, complied — and the Vietnamese served him well with a beautifully tailored silk shirt in a flattering color. Wonder who gets the distribution agreement on those?
'America First' advocates
The president waited until he'd left China to let fly with the "America First" rhetoric U.S. audiences have come to know. It came, awkwardly, at a regional economic summit including all the leaders who'd hoped to be bound in economic cooperation with the United States through the Trans-Pacific Partnership trade deal Trump canceled. Trump said the United States would no longer do deals with groups of countries but would negotiate bilateral trade deals with anyone. The clip will look great on Fox News and in political ads. In reality, however, the region is rejecting this approach as fast as it can.
American businesses and workers
As Trump was arriving, most of the rest of the TPP countries went ahead and finalized an agreement without the U.S. The Japanese government waited until Trump had left to reiterate its interest in moving ahead with the Trans-Pacific Partnership, minus the U.S., rather than entering into a bilateral trade deal, as Trump prefers. Chinese officials and citizens nodded along happily when Trump said of the trade imbalance between China and the U.S.: "I don't blame China. Who can blame a country that is able to take advantage of another country for the benefit of its citizens? I give China great credit."
Meanwhile, Americans scratched their heads about what had happened to Trump's frequent claims that he would be tough on China, on everything from currency manipulation to intellectual property to rule of law and workers' rights. It remains to be seen whether South Korea and Japan act on Trump's not-too-subtle call for them to buy American weapons in exchange for the protection of the U.S. security umbrella — but what we know for sure is that military spending has a smaller trickle-down to the public than investment in other sectors.
And where are the senior economic officials on this trip? Trump is expected to lay out a comprehensive U.S. economic policy toward the region at the Asia Pacific Economic Cooperation Summit in Da Nang, Vietnam, this weekend. However, its China element was hard to understand, and its Japan and South Korea components seemed to come down to "buy more weapons, and build more factories."
Human rights in Asia
Nobody really expected Trump to comment on the constricting space for public debate in China, or the odd fact that the head of South Korea's labor union federation is languishing in jail. Nor does anyone expect him to speak up about the brutalization of activists in Vietnam, or extrajudicial murders in the Philippines in the coming days. But those omissions make Trump's paean to the suffering of North Koreans harder to take seriously — though the horrors he described are all too real.
The State Department
The Kremlin spent the week playing coy on whether Putin would meet Trump before declining. As Trump made his way through Asia, back home the American Foreign Service Association, a union for U.S. foreign service personnel, released a letter criticizing the State Department's leadership, alleging "there is simply no denying the warning signs that point to mounting threats to our institution — and to the global leadership that depends on us."
It notes that State has lost 60 percent of its career ambassadors, the highest-ranking diplomats, since January. Plus, the next entering class of Foreign Service officers is down from 366 in 2016 to around 100.
The Asia trip shows exactly why this collapse in State Department staffing is so detrimental to U.S. diplomacy. The White House and Secretary of State Rex Tillerson are said to be at a stalemate over whether acting assistant secretary of State for East Asian and Pacific affairs Susan Thornton should be offered the position permanently. Former U.S. diplomat Victor Cha is rumored to be Trump's pick for U.S. ambassador to South Korea, but he still hasn't made an official announcement. A number of other positions on the Asia policy team remain vacant.
That will make it difficult, to say the least, to follow up on what progress the president might make during the trip on crucial issues like how to deal with Pyongyang, or use commercial diplomacy to promote U.S. products and workers.