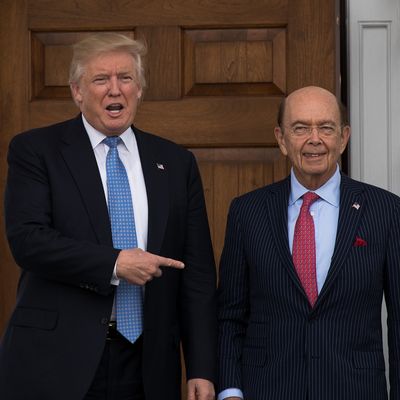 You forgot about Russia.
Photo: Drew Angerer/Getty Images
President Trump's Commerce secretary, Wilbur Ross, has close business ties with members of Vladimir Putin's inner circle that he never revealed during his Senate confirmation hearings, according to a massive document leak whose details were published on Sunday.
Ross retains significant investments in Navigator Holdings, a shipping company he once controlled. One of Navigator's most lucrative activities is transporting gas for Sibur, an enormous Russian energy company whose second-biggest shareholder is Kirill Shamalov, Putin's son-in-law. The company's ownership also includes Gennady Timchenko, a friend of Putin who has been sanctioned by the U.S.
Ross disclosed his connections to Navigator to the Senate, but not the company's dealings with Sibur.
By setting up a series of shell companies in the Cayman Islands, Ross, who has had a hand in hundreds of businesses, made it difficult to trace his connection to Russia.
"I am astonished and appalled because I feel misled," Democratic senator Richard Blumenthal told NBC.
A spokesperson for Ross told the New York Times that Navigator's relationship with Sibur predated his time at the company, and that he had never met the Russian oligarchs in question. As for possible conflicts of interest involving Russian policy, the spokesperson said that Ross "recuses himself from any matters focused on transoceanic shipping vessels."
Worth multiple billions of dollars, he is by far the Trump administration's richest cabinet member.
The leaked documents, which are being referred to as the "Paradise Papers," came from Appleby, a prominent law firm based in Bermuda that specializes in offshore bank accounts. They were originally procured by the German newspaper Süddeutsche Zeitung, then given to the International Consortium of Investigative Journalists, which made them available in part to several outlets. Approximately 13.4 million documents were leaked, with tax details of more than 100 public figures exposed. (Included among them are fellow Trump administration officials Secretary of State Rex Tillerson and Treasury Secretary Gary Cohn.)
They expose the arcane, but legal, tax-evasion methods of powerful figures (including the Queen of England) and corporations worldwide. Their disclosure recalls the Panama Papers, a leaked cache of documents that sparked political firestorms in many countries after their publication in 2015.
The news comes amid a heightening of special counsel Robert Mueller's probe into Russia's interference in the 2016 election. NBC News reports that Mueller may soon indict Michael Flynn, Trump's former national-security adviser.