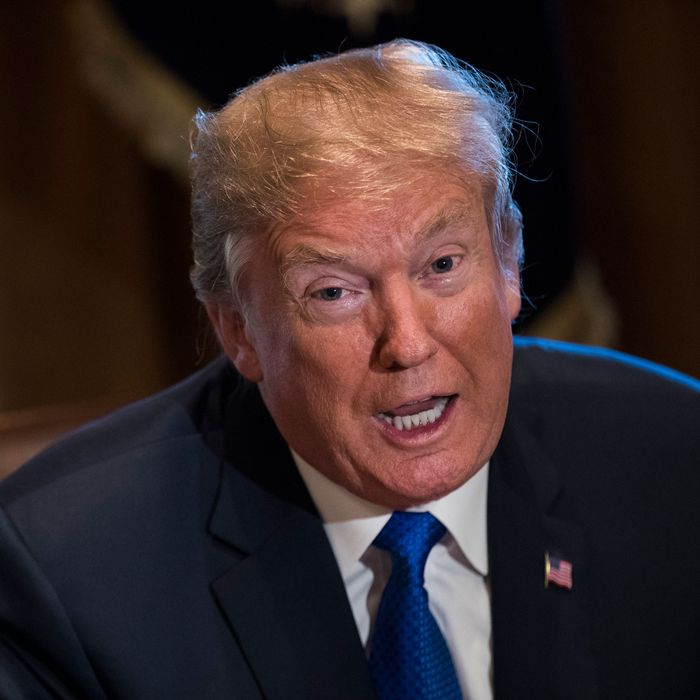 The insult-comic-in-chief.
Photo: Drew Angerer/Getty Images
President Trump attacked one of his favorite targets, Republican senator Jeff Flake, via Twitter on Sunday, using his newfound 280-character limit to maximum loopy effect.
With its unnecessary scare quotes and capitalization, oddly placed parentheses, and lazy nickname, the missive hit all the beats of an archetypal Trump tweet.
Amid the childish jibes, Trump also inferred that Flake, a frequent critic of the president who was indeed caught on a "mike" chiding him on Saturday, would vote no on the gigantic tax cuts the House passed last week — the White House's top legislative priority.
Flake is reported to be concerned about the bill's effects on the deficit, but he had not been seen as a probable no. Trump's assumption that Flake is a lost cause probably won't change the senator's ultimate position, but it's an inexplicable gamble to make Flake look like he bowed to pressure by voting yes — especially when Senate Majority Leader Mitch McConnell can only afford to lose two Republican votes to get the bill through.
As usual, Trump isn't playing three-dimensional chess; he's playing tic-tac-toe with himself.