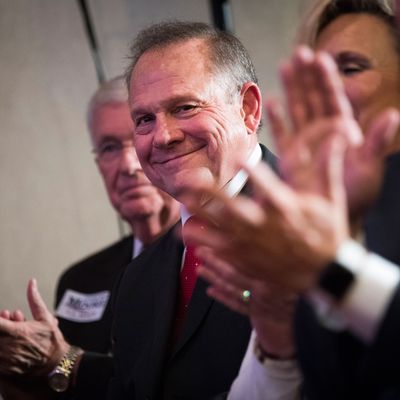 Roy Moore may not be looking great in the polls, but it appears he no longer has to worry about being forced off the ballot in Alabama.
Photo: Drew Angerer/Getty Images
In dual developments that together represent a huge victory for embattled Alabama GOP Senate nominee Roy Moore, his state's Republican Party reaffirmed its support for him (and more importantly, its unwillingness to strip him of its nomination) as the White House signaled the president would not intervene to try to get him to withdraw from the race.
These developments probably ensure that Moore will face Democrat Doug Jones on December 12 without official opposition from his own party. But that could mean this very red state has a chance of going blue. Even as Republicans got out of the Judge's way, a Fox News poll of Alabama showed Jones leading among likely voters by a 48-40 margin, with a narrow plurality (38-37) expressing belief in the allegations against Moore — though only 13 percent of self-identified Republicans feel that way. The poll also shows Jones voters support their candidate as intensely as do Moore's famously dedicated followers.
It should be noted that an October Fox News poll showed the race tied at a time when everyone else had Moore with a solid lead. Still, the Judge has been losing ground in every poll taken since the Washington Post allegations were published on November 9, with the only question being how strong he was before all hell broke lose.
The state GOP's statement (issued subsequent to a meeting of its steering committee last night) wasn't quite a ringing endorsement of Moore's side of the story with respect to the multiplying allegations of sexual misconduct toward underage women. Instead, it argued he deserved a "presumption of innocence" in the case despite some pretty solid evidence against him, and expressed trust in "voters as they make the ultimate decision in this crucial race." After noting the sharp policy differences between Moore and Democrat Doug Jones, the statement punted on any judgement of Moore and mixed a metaphor for good measure: "Alabamians will be the ultimate jury in this election — not the media or those from afar." And not, apparently, the Republican Party of Alabama.
This statement was important to Moore because the state party had the power to strip him of the GOP nomination, which would have had the legal effect of nullifying any votes for him in the special general election on December 12. Barring some late reversal of position, that's not happening now, which means any hypothetical write-in effort for another candidate (which had been widely discussed) would split the GOP vote and presumably all but ensure Jones's election.
Meanwhile, White House press secretary Sarah Huckabee Sanders made it clear Trump, too, was ready to defer to Alabama voters:
President Trump believes that the people of Alabama should decide whether to elect Roy Moore, despite mounting allegations of sexual assault and harassment of girls as young as 14 years old, the White House said.




"Look, the president believes these allegations are very troubling and should be taken seriously, and he believes the people of Alabama should make the decision on who their senator should be," White House press secretary Sarah Huckabee Sanders said Thursday.
In other words, Trump will not answer the public and private pleas of Senate Republicans that he push Moore out of the race.
So unless something really unexpected happens, Moore will be fighting Doug Jones with one hand and his accusers with another, as Republicans tut-tut or even condemn him, but do nothing practical to keep him out of the Senate. Alabama Democrats will now have a clear opportunity to win a race few gave them a chance of winning when Jeff Sessions resigned this seat to become attorney general in what feels like a decade ago.