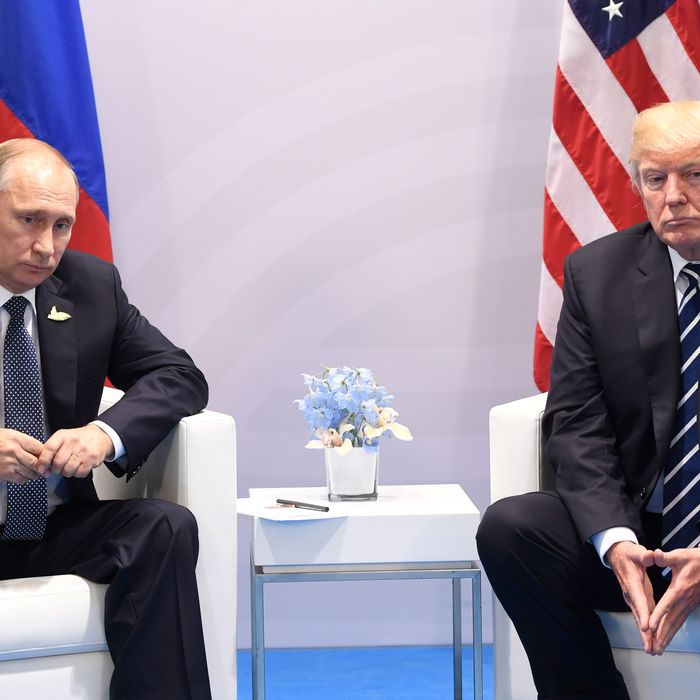 Trump and Putin at the G20 Summit in July.
Photo: Saul Loeb/AFP/Getty Images
President Trump and Vladimir Putin will meet once again at the Asia-Pacific Economic Cooperation summit in Vietnam, Kremlin officials said Thursday.
Kremlin aide Yuri Ushakov confirmed to Russian news agencies that the meeting will happen and said the timing is still being discussed. Putin spokesperson Dmitry Peskov told reporters that the format of the meeting is still up in the air. A formal meeting could still happen, or they may just run into each other and have an informal pull-aside. "As for the content of the meeting, there is no agreed agenda," Peskov said.
In his most recent comments on the meeting, which is expected to include discussions of North Korea, Syria, and Ukraine, Secretary of State Rex Tillerson seemed sour on the idea of a formal meeting between the two leaders. "We're in contact with them and the view is that the two leaders are going to meet if there's something sufficiently substantive to talk about that would warrant a formal meeting," Tillerson said Thursday in Beijing. He added that a less formal meeting on the sidelines of the summit is likely.
Trump has made it clear that he wants to sit down with Putin in Vietnam. On Sunday, he told White House reporters that he "will want Putin's help" in dealing with North Korea. Some of Trump's aides, however, are not so sure it's a good idea for him to be seen with the man thought by some to be his puppet master, especially with special counsel Robert Mueller starting to hand out indictments.
As BuzzFeed reports, "White House aides had hoped the Asia trip would provide a reprieve from the wall-to-wall coverage of the Russia investigation." But as long as there are cameras in Vietnam when Putin and Trump come face to face, that reprieve won't come.