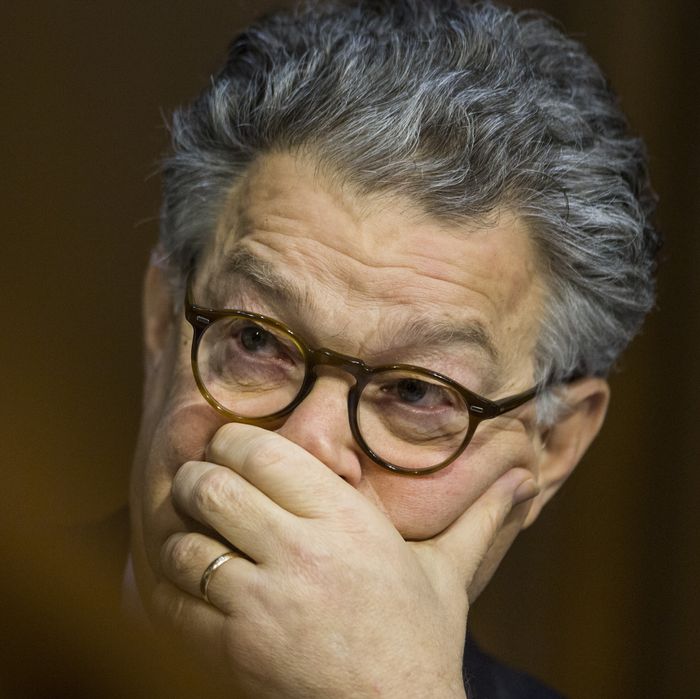 Really?
Photo: Zach Gibson/Bloomberg via Getty Images
President Trump's hypocrisy reached new heights on Thursday night when he called out Senator Al Franken on Twitter about 12 hours after broadcaster Leeann Tweeden accused him of insisting on rehearsing a kissing scene in a skit he wrote for a 2006 USO trip to the Middle East, then aggressively sticking his tongue in her mouth. Tweeden also released a photo of Franken pretending to grab her breasts through a flak vest while she was sleeping.
Franken has apologized, and many lawmakers, including fellow Democrats, have criticized the senator's behavior, and urged the Senate's ethics committee to conduct an investigation. It would certainly be appropriate for the president to issue a statement supporting the investigation, and saying sexual harassment is unacceptable.
Instead, Trump tweeted out a childish jab about the senator's name, and suggested that he may be guilty of worse than what Tweeden alleged:
Then he called Franken a hypocrite and mentioned a "tape" that doesn't exist.
Trump was referring to 1995 interview with this magazine in which Franken, who was then on Saturday Night Live, joked about a potential skit in which the journalist would be drugged and raped.
"And, 'I give the pills to Lesley Stahl,'" Franken said. "'Then, when Lesley's passed out, I take her to the closet and rape her.' Or, 'That's why you never see Lesley until February.' Or, 'When she passes out, I put her in various positions and take pictures of her.'"
For the past week, Trump has refused to personally address questions about Roy Moore, the Alabama Senate candidate accused of sexual misconduct with multiple underage girls, even as Republican lawmakers have urged him to call for their own nominee to drop out of the race. Trump's only comment on the matter came via his press secretary, who said a "mere allegation" (or in Moore's case nine) isn't worth destroying a man's career over.
"Like most Americans, the president believes we cannot allow a mere allegation, in this case one from many years ago, to destroy a person's life," White House press secretary Sarah Sanders said. "However, the president also believes that if these allegations are true, Judge Moore will do the right thing and step aside."
Then, of course, there are the 20 or so women who have accused Trump of all kinds of sexual harassment and assault, from unwanted kissing to groping to attempted rape. But as Sanders confirmed recently, the official White House position is that all of those women are lying.