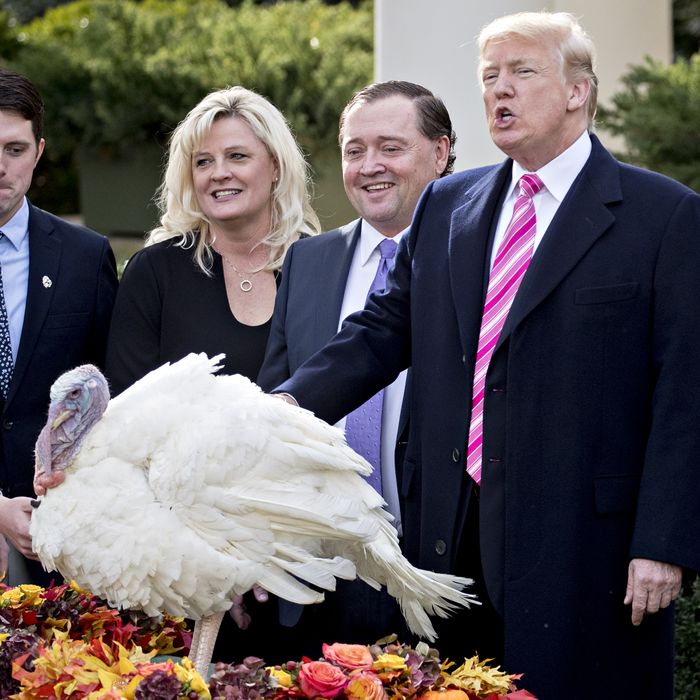 Trump gets ready to pardon.
Photo: Andrew Harrer/Bloomberg via Getty Images
First there was Sheriff Joe Arpaio, and then there was Drumstick.
On Tuesday, Donald Trump took part in the most absurd of all presidential ceremonies: the turkey pardon. It's a pointless and juvenile spectacle, a waste of time and taxpayer dollars, and Trump — whose unease is evident during most presidential activities, from handshakes to somber speeches — appeared completely at home as its star.
While according to the White House Historical Association, the tradition dates back to 1863, when Abraham Lincoln's son, Tad, objected to the slaughter of a live turkey intended to be eaten for Christmas dinner, the event as we know it is in fact rather new. Ronald Reagan joked about pardoning a turkey as a means of mocking and deflecting questions about whether he'd pardon an actor in the Iran-Contra scandal, but the first official turkey pardoning didn't take place until 1989, under George H.W. Bush. Ever since, presidents have reassumed their relatable campaign personalities to comically preside over large birds in front of reporters and cameras.
Through the Palm Room doors just before 1:00 p.m., a drummer, a keyboardist, and a bassist from a U.S. military band greeted guests in the Rose Garden with a rendition of "Moondance" by Van Morrison, a love song about a night in October.
The press assembled among risers and a small number of allotted folding chairs at the direction of junior White House aides, while Ivanka Trump and Jared Kushner, along with their children, mingled with guests near the lectern. Some distance away, the sound of a screeching gobble could be detected. And then, looking happier than he ever has in the White House, Trump emerged from the West Wing along with Melania and Barron, their 11-year-old son.
"Welcome to the White House, a very special place," he said. "I hear that beautiful turkey."
He noted that Harry Truman, when presented with a turkey by the National Turkey Federation, ate it instead of pardoning it. "He was a tough cookie," Trump said. "Today, I'm going to be a much nicer president." And then he added that among the many guests he'd already welcomed to the White House since January, including "a few very strange birds," none had been "quite like our magnificent guest of honor today, Drumstick. Hi, Drumstick. Oh, Drumstick, I think, is going to be very happy." Drumstick and his understudy Wishbone, Trump said, would soon be joining Tater and Tot, two turkeys pardoned by Barack Obama, on a farm that he said was "a beautiful place."
Trump thanked the troops, law enforcement, and the citizens of the U.S. in general (although few of them have much to do with the turkey), and then he imagined what the internal monologue of the turkeys must be. "I think Drumstick and Wishbone would be very thankful if we would just get around to the pardon. They say, 'Enough talk, please pardon us!'" he said.
The turkeys had been staying nearby at the Willard Hotel at the expense of the National Turkey Federation, according to a "turkey pardon FAQ" provided to New York by the White House. Presumably well-rested from his or her stay at the establishment, Drumstick — though it could've been Wishbone, who's to say? — was trotted out to a table and greeted by the president.
He remarked on the bird's weight ("Big bird!"), which he was told was 36 pounds, but turkey records claim is 47 pounds, and then he placed his hand over its feathers. "Drumstick, you are hereby pardoned," he told the bird, before clapping for himself.
A reporter in the back of the garden began to shout, prompting a frantic press aide to order him to sit down. "Are you going to pardon any people?" the reporter asked.
The president had no response.