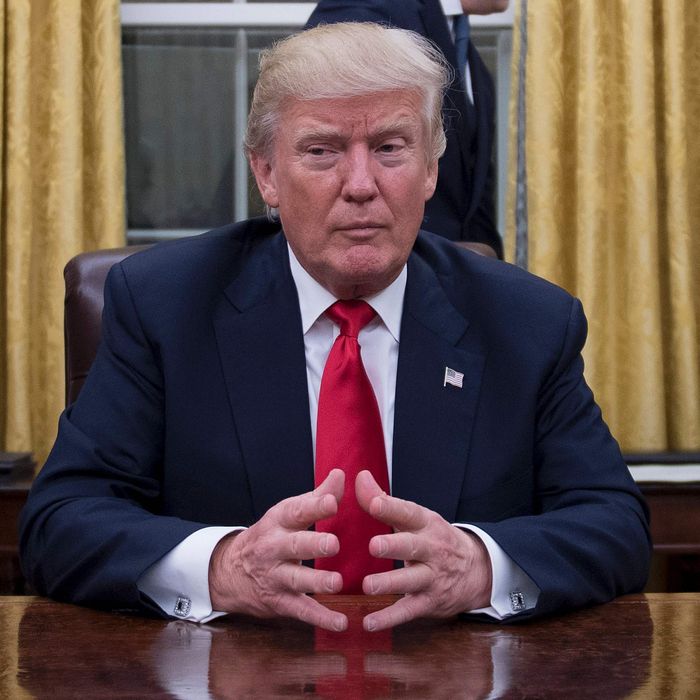 Something doesn't add up.
Photo: Jim Watson/AFP/Getty Images
On Christmas Eve 2016, President-elect Trump announced that "to avoid even the appearance of any conflict" he would direct his attorney to shut down his charitable foundation.
Apparently what he meant was that he would try to shut it down in about a year, though that's not actually possible. In a tax filing due to the IRS on November 15, which was posted on the nonprofit information site guidestar.org, the Trump Foundation has "announced its intent to dissolve and is seeking approval to distribute its remaining funds" to other charities.
A spokesperson for the foundation confirmed to NBC News that it is being shuttered. "The Foundation continues to cooperate with the New York Attorney General's Charities Division, and as previously announced by the president, his advisers are working with the Charities Division to wind up the affairs of the Foundation," the spokesperson said. "The Foundation looks forward to distributing its remaining assets at the earliest possible time to aid numerous worthy charitable organizations."
However, that doesn't actually mean the Trump Foundation is no more. In September 2016, New York attorney general Eric Schneiderman announced an investigation into the foundation "to make sure it's complying with the laws governing charities in New York." A year earlier, the foundation had admitted to "self-dealing," and paid a fine to the IRS. Reporting at the time revealed that Trump hadn't personally contributed to the foundation in years, and he was using the charitable contributions of others to buy gifts for himself, settle lawsuits, and donate to politicians. Schneiderman ordered the Trump Foundation to cease all fundraising in October 2016.
Schneiderman's press secretary, Amy Spitalnick, confirmed on Monday that the Trump Foundation can't legally close up shop. "As the foundation is still under investigation by this office, it cannot legally dissolve until that investigation is complete," said Spitalnick.
The filing also revealed that one of Trump's golf courses reimbursed the Trump Foundation for $158,000, which the charity had paid to settle a lawsuit against the club. The foundation received another $62,184 in reimbursements from unidentified sources.
All of this makes it sound like President Trump engaged in some questionable business practices, so it's a good thing the foundation is dissolved and none of us should ever speak of it again.