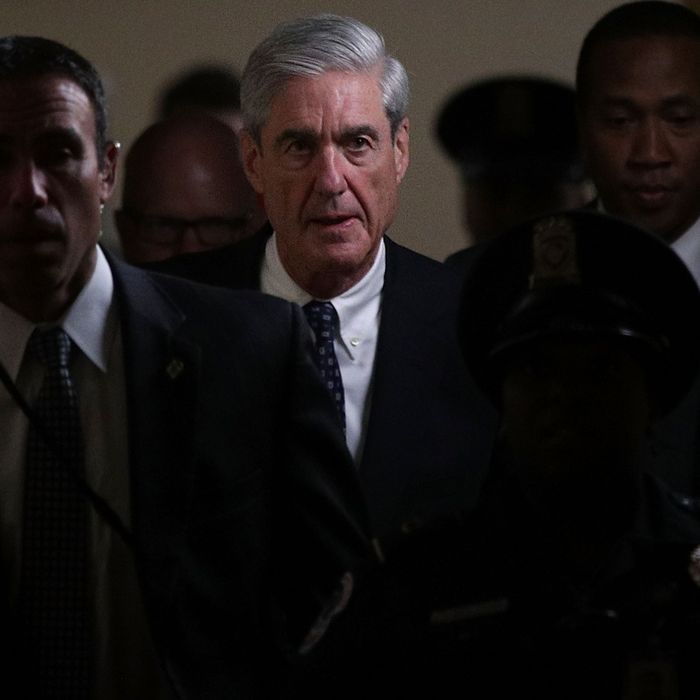 An expensive adversary.
Photo: Alex Wong/Getty Images
President Trump is now spending some of his famously inflated fortune to pay his own legal bills related to the continuing investigations into Russian electoral interference, and he may use some of his own money to help out staffers who have been caught up in the probes, Bloomberg reported on Friday.
Until now, Trump had been using funds donated from his reelection campaign and the Republican National Committee to cover the burgeoning costs. Reuters reported that the RNC had spent more than $230,000 on Trump's legal fees in August alone. The cost of being investigated can quickly spiral: A single interview with with a congressional committee, or Special Counsel Robert Mueller, can come out to more than $30,000.
White House lawyer Ty Cobb, who joined Trump's legal team over the summer, told Bloomberg that the White House was crafting a plan that would allow Trump to pay staffers' bills while conforming to ethics regulations, since, with Trump paying the bills of underlings, they may have more incentive to deliver Trump-friendly answers to investigators. (Though this White House is not known for its fidelity to ethics, Cobb does appear to be one of the more by-the-book characters surrounding the president.)
Mueller's probe has resulted in the indictments of former Trump campaign manager Paul Manafort and his business partner Rick Gates, as well as lower-level staffer George Papadopoulos. But Trump's largesse will only extend to staffers who worked, or currently work, at the White House, not those who served exclusively on the campaign — leaving all three out in the cold. It's unclear whether Michael Flynn, the former national security adviser whose indictment may be imminent, is covered under the plan.
The congressional investigations into Russia are likely to wrap up soon, but with Mueller's expected to last at least a few more months, Trump may have to dip into more and more of his completely legitimately earned cash.