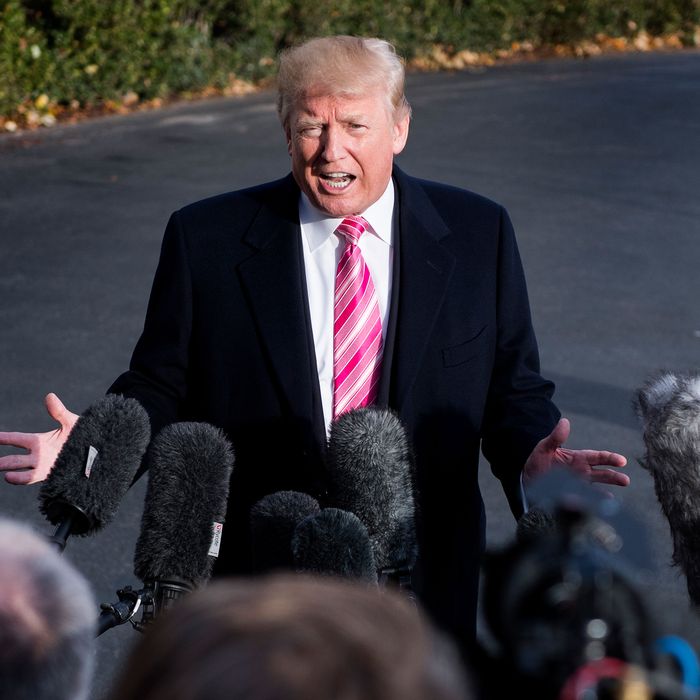 The president suddenly threw himself into the Alabama Senate race on behalf of scandal-plagued Republican Roy Moore.
Photo: Jim Watson/AFP/Getty Images
After keeping a prudent and uncharacteristic silence about Roy Moore's scandal-plagued Senate campaign and signaling through staff that he'd stay out of the race, the president bashed Democrat Doug Jones in brief comments to reporters today and opened up the rather surprising prospect that he might make his way to Alabama to campaign for Moore.
White House press secretary Sarah Huckabee Sanders said just the other day that Trump was "troubled" by the allegations of sexual misconduct against minors by Moore. Now when asked about them the president simply remarks: "Roy Moore denies it — that's all I can say… he says 40 years ago it didn't happen."
At first Trump offered a standard attack on Jones as "terrible on borders, terrible on the military." But he ill-advisedly shifted to the claim that "you don't need somebody who's soft on crime like Jones." Brian Beutler had the obvious response:
Even if you don't think it's been proven that Moore is a "pedophile," the authorities in Gadsden, Alabama, clearly thought he was a threat to the safety of minors peacefully shopping at a local mall. And if you don't buy any of the sexual-misconduct allegations against Moore, he's a proud scofflaw who has twice lost his gavel as Alabama Supreme Court chief justice for defying federal court orders. That's some law-and-order guy all right.
Putting aside Trump's sudden decision to defend Moore and go after his opponent, it's much more surprising that he suggested he might be headed south to campaign for the Ayatollah of Alabama (it's hard to imagine why he would say that's a topic he would be "letting you know [about] next week" if he's not). An appearance by the president did not work out too well for his original Alabama Senate candidate, Luther Strange. But more important, if he campaigns for Moore he will expose himself to constant questions about his own ethical standards with respect to sexual harassment and assault, and his own views on old men preying on young women. If there are any subjects on earth that Donald Trump should walk over hot coals to avoid, it is these.