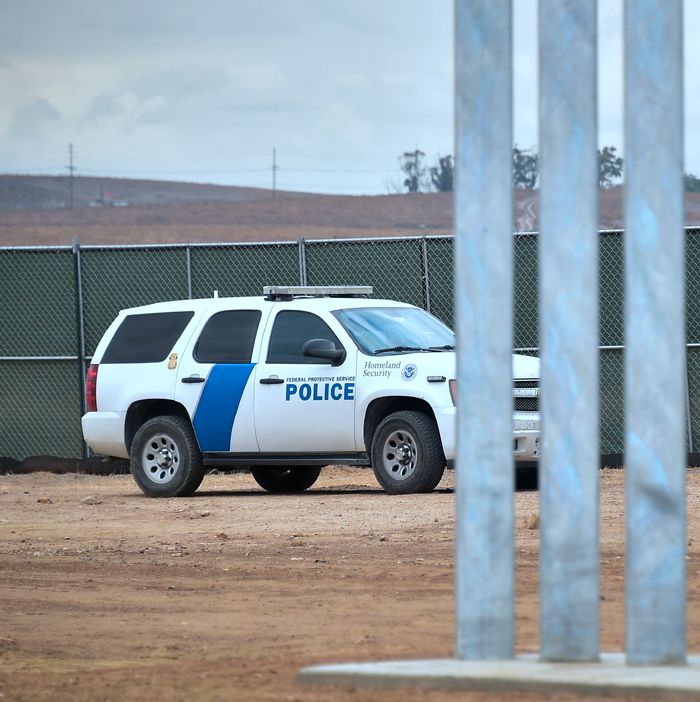 A border-patrol agent monitors prototypes of Trump's proposed border wall on November 1, 2017, in San Diego, California.
Photo: FREDERIC J. BROWN/AFP/Getty Images
A U.S. Customs and Border Protection agent was killed and his partner was seriously injured while they were on patrol in rural West Texas on Sunday morning. U.S. Customs and Border Protection said the agents were "responding to activity" near Interstate 10 in Culberson County, Texas, which is about 90 miles east of El Paso, during the incident. Rogelio Martinez, 36, died. His partner, who has not been identified, called for help and was then transported to the hospital. He remains in serious condition.
The agency said the FBI has taken over the investigation, but provided little information about the incident. CBS News reported that the agents arrived at the scene in separate cars, with one investigating a tripped alarm and the other providing backup.
Texas senator Ted Cruz issued a statement expressing his condolences and referring to the incident as an "attack." He suggested it means security must be increased at the border, though he didn't elaborate on what happened to the agents.
"This is a stark reminder of the ongoing threat that an unsecure border poses to the safety of our communities and those charged with defending them," Cruz said. "We are grateful for the courage and sacrifice of our border agents who have dedicated their lives to keeping us safe. I remain fully committed to working with the Border Patrol to provide them with all the resources they need to safeguard our nation."
Texas governor Greg Abbott expressed similar sentiments:
President Trump, as usual, was less delicate. Though we know few details about what happened to Martinez and his partner, he took the opportunity to renew his call for a southern border wall:
As CBS News notes, Big Bend was responsible for one percent of the more than 61,000 apprehensions at the border between October 2016 and May 2017. The region features mountains and the Rio Grande, which make it difficult for people to cross the U.S.-Mexico border there.
Martinez had been a border-patrol agent since August 2013. He is the 39th agent to die while working on the border since 2003.