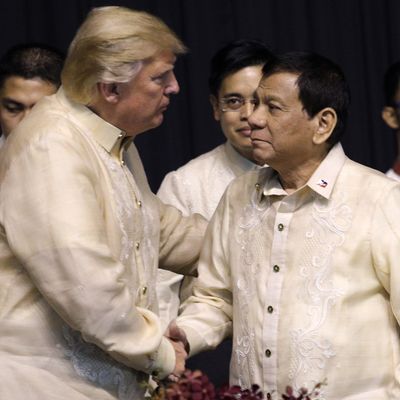 New pals Trump and Duterte at a gala dinner on November 12, 2017.
Photo: ATHIT PERAWONGMETHA/AFP/Getty Images
After spending the past few days dealing with the fallout from his suggestion that Vladimir Putin is a trustworthy source on the topic of Russia's election-meddling, on Monday, President Trump moved on to praising another despotic world leader.
In remarks before reporters during his first official meeting with President Rodrigo Duterte of the Philippines, Trump said: "We've had a great relationship. This has been very successful. And the ASEAN (Association of South East Asian Nations) conference has been handled beautifully by the president in the Philippines."
When a reporter asked if Trump would raise questions about human-rights abuses in the Philippines, Duterte shut them down, saying, "Whoa, whoa. This is not a press statement. This is the bilateral meeting." Then Trump chuckled when Duterte referred to members of the press as "spies."
White House Press Secretary Sarah Sanders said the topic was briefly mentioned during their private discussion. "The conversation focused on ISIS (Islamic State), illegal drugs, and trade," she said. "Human rights briefly came up in the context of the Philippines' fight against illegal drugs."
Last week, Duterte said he would tell Trump to "lay off" if he brought up the 7,000 plus people who have been killed since last year in the president's war on drugs.
It's no surprise that Duterte and Trump have been getting along. In an April phone call, Trump praised Duterte for his "unbelievable job on the drug problem." (When President Obama suggested Duterte tackle the problem "the right way," he responded by calling him the "son of a whore.")
The Duterte-Trump alliance isn't all about the U.S. president kowtowing to a guy who's bragged about stabbing someone to death for no reason. On Sunday, Duterte serenaded the 19 world leaders at a gala dinner with the the Filipino love song "Ikaw."
"Ladies and gentlemen, I sang uninvited, upon the orders of the commander-in-chief of the United States," Duterte said.