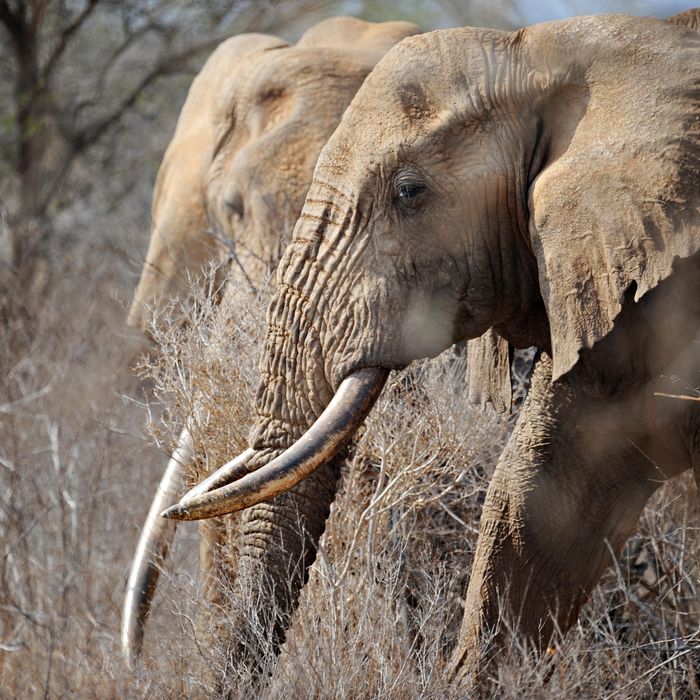 They need all the help they can get.
Photo: Roberto Schmidt/AFP/Getty Images
President Trump announced that he is suspending this week's decision by the U.S. Fish and Wildlife Service to end a ban on importing hunting trophies, like the tusks and skulls of elephants, from Zimbabwe and Zambia. That decision, which overturned a 2014 Obama administration ban on the import of elephant trophies, prompted fierce backlash from conservation groups.
In response to the pushback, the Fish and Wildlife Service argued on Friday that making it more enjoyable for American hunters to kill African elephants would in fact "enhance" the animals' chances of survival, thanks to the high permit fees hunters would have to pay for the privilege. Though elephants are protected under the Endangered Species Act, trophies from dead elephants are allowed into the U.S. if the Fish and Wildlife Service determines that hunting those animals will aid conservation efforts. "Legal, well-regulated sport hunting as part of a sound management program can benefit the conservation of certain species by providing incentives to local communities to conserve the species and by putting much-needed revenue back into conservation," the agency explained earlier this week.
However, as the Washington Post points out, there is widespread corruption and wildlife mismanagement in countries like Zimbabwe, and such hunting produces a negligible amount of revenue. Encouraging (rich) American hunters to kill a few hundred African elephants every year would mostly just benefit the hunters' trophy collections.
On Friday, Trump tweeted that he wanted to review the evidence before making up his mind:
And on Sunday, Trump indicated that he was probably going to keep the ban in place, in his own teasing way:
Following the first tweet, Interior Secretary Ryan Zinke — who has been using his position to promote hunting of all kinds — added that he and Trump "have talked and both believe that conservation and healthy herds are critical. As a result, in a manner compliant with all applicable laws, rules, and regulations, the issuing of permits is put on hold as the decision is being reviewed."
In addition, the Republican head of the House Foreign Affairs Committee, Congressman Ed Royce, released a statement on Friday noting that he has "zero confidence" that the government in Zimbabwe — which is currently in the midst of a military coup attempt — "is properly managing and regulating conservation programs" or that "elephant populations in the area warrant overconcentration measures." (The president of the U.S. Human Society agrees on both points.)
As a result of illegal ivory poaching, the already-threatened population of African elephants has been steadily dropping since 2007, and has ultimately decreased by a total of 6 percent since 2001, according to the Great Elephant Census. President Trump's sons are avid hunters, and Donald Trump Jr. hunted and killed an elephant during a 2012 safari in Zimbabwe with his brother, Eric.
This has post has been updated to include Trump's Sunday tweet.