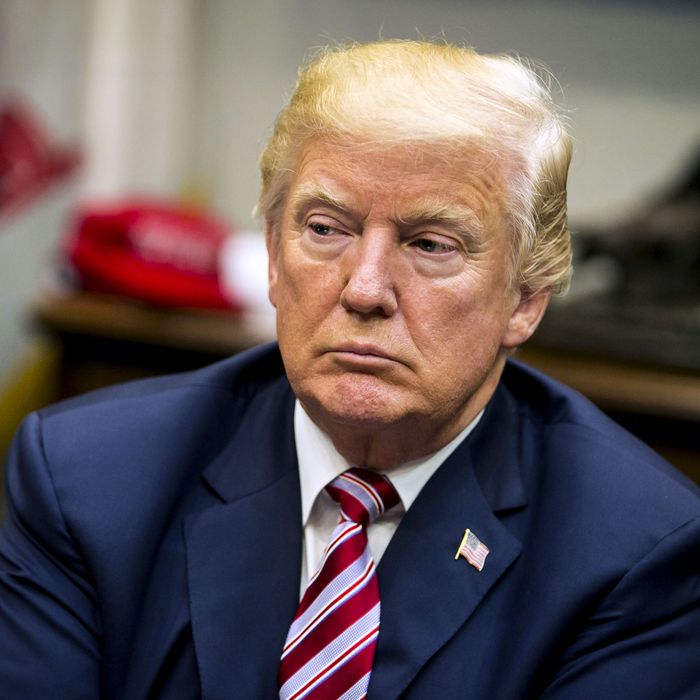 Sorry, Bannon.
Photo: Al Drago/Bloomberg via Getty Images
The shocking allegations that Roy Moore, the Republican candidate in next month's U.S. Senate election in Alabama, molested a 14-year-old girl and dated other teenagers left President Trump with a difficult decision to make. Does he echo Moore and his former political strategist Steve Bannon in claiming that it's all "fake news" concocted by the liberal media, working in cahoots with Democrats? Or does he side with Establishment Republican senators, and Vice-President Mike Pence, in calling for Moore to withdraw from the Senate race, while giving himself some wiggle room by stressing that we don't know for sure that the four women's allegations are true?
The White House had no comment on Thursday, as the president is in the middle of a 12-day Asia trip, and thus incapable of immediately responding to widely reported U.S. news events. But on Friday, White House Press Secretary Sarah Sanders finally issued a statement as Air Force One made its way to Da Nang, Vietnam.
"Like most Americans, the president believes we cannot allow a mere allegation, in this case one from many years ago, to destroy a person's life," Sanders said. "However, the president also believes that if these allegations are true, Judge Moore will do the right thing and step aside."
So, the president isn't ready to condemn Moore based on the "mere allegation" of four women and multiple friends and family members who backed up their stories. But if somehow they do find a way to prove their decades-old claims beyond a shadow of a doubt, Trump is confident that Moore will drop out of the race — though, he's already indicated that he'll do no such thing.
It should be noted that Trump's stated positions often differ from those expressed by his press secretary. We won't know that he's truly lost faith in Moore until he starts deleting any mentions of him from his Twitter feed.