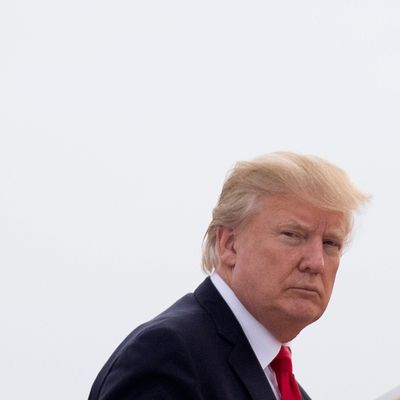 There will be no minimization of this chief.
Photo: Jim Watson/AFP/Getty Images
President Trump, upset over a lack of gratitude from the father of one of the three UCLA basketball players whom Trump claims to have help freed from imprisonment in China, said on Sunday that he "should have left them in jail." The players, Cody Riley, Jalen Hill, and LiAngelo Ball (the younger brother of Los Angeles Lakers rookie Lonzo Ball) were arrested by Chinese police and put under house arrest after being accused of shoplifting from a Louis Vuitton store in Hangzhou two weeks ago. They were then allowed to leave the country last week after Trump apparently asked Chinese president Xi Jinping to intervene. (The State Department and the CEO of the massive Chinese e-tailer Alibaba, Jack Ma, also worked to get the men released.)
Trump then revisited the topic on Sunday night, suggesting he should have left the players imprisoned in China until his next trip to Asia:
On Wednesday, Trump wondered aloud on Twitter if the players, who are all black, would thank him for his efforts to get them released:
All three subsequently did thank Trump at a news conference later that day. They also expressed remorse for stealing from three stores in China. UCLA said that the players were indefinitely suspended from the basketball team while the school goes through the legal process with them.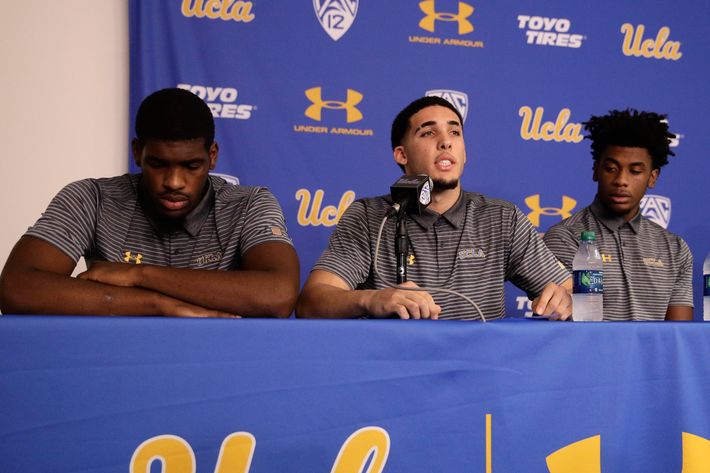 On Thursday, Trump responded to the players' gratitude, telling them they should also thank President Xi before offering some Hallmark-card advice:
Then, on Friday, one player's father, the always outspoken LaVar Ball, told ESPN that he was not impressed with Trump's intervention during the president's Asia trip. "What was he over there for?" Ball said. "Don't tell me nothing. Everybody wants to make it seem like he helped me out." He continued:
As long as my boy's back here, I'm fine. I'm happy with how things were handled. A lot of people like to say a lot of things that they thought happened over there. Like I told him, "They try to make a big deal out of nothing sometimes." I'm from L.A. I've seen a lot worse things happen than a guy taking some glasses. My son has built up enough character that one bad decision doesn't define him. Now if you can go back and say when he was 12 years old he was shoplifting and stealing cars and going wild, then that's a different thing. Everybody gets stuck on the negativity of some things and they get stuck on them too long. That's not me. I handle what's going on and then we go from there.
So although Trump received the praise he seems to have desperately sought from the players, Ball's comments nonetheless triggered a characteristically petulant (and not at all authoritarian) response from the president on Sunday.