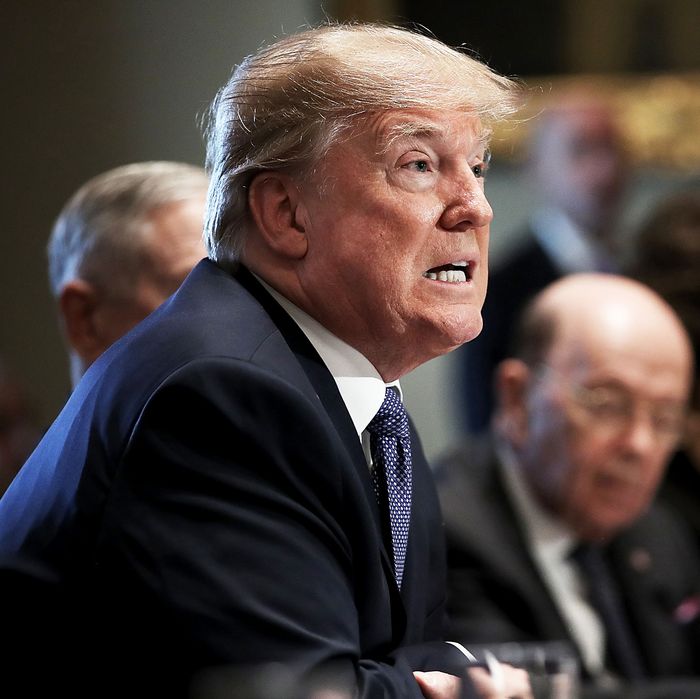 "Send him to Gitmo," Trump said.
Photo: Win McNamee/Getty Images
President Trump on Wednesday called the U.S. justice system a "joke" and said he's open to sending Sayfullo Saipov, the Uzbekistani man accused of killing eight people in New York on Tuesday, to Guantanamo Bay so he receives "much tougher" treatment.
"We have to come up with punishment that's far quicker and far greater than the punishment these animals are getting right now," Trump said. "They'll go through court for years … We need quick justice, and we need strong justice."
Asked directly if he wanted to send Saipov to the U.S. military prison in Cuba, Trump said, "I would certainly consider it."
Putting Saipov in the controversial prison was a point on which Trump and Senator John McCain could finally agree. "Take him to Guantanamo," McCain said on Wednesday. "He's a terrorist, he should be kept there. There's no Miranda rights for somebody who kills Americans." Senator Lindsey Graham came out in support of the idea, too, saying Saipov "should be held as an enemy combatant."
White House spokesperson Sarah Huckabee Sanders said the Trump administration agrees with that designation, which would allow Saipov to be held and questioned without a lawyer. "I believe we would consider this person to be an enemy combatant, yes," Sanders said on Wednesday.
The Center for Constitutional Rights, a legal advocacy group that has defended Gitmo detainees, came out firmly against the idea on Wednesday. "Fifteen years has proven no one will ever be successfully tried or 'brought to justice' at Guantanamo, and the President and his supporters within his own party are deluded if they believe otherwise," the group said in a statement.
Criticism of this idea wasn't confined to nonprofit advocacy groups. Fox News legal analyst Judge Andrew Napolitano said on Wednesday that sending Saipov to Cuba would be "unfair, unlawful and unconstitutional."