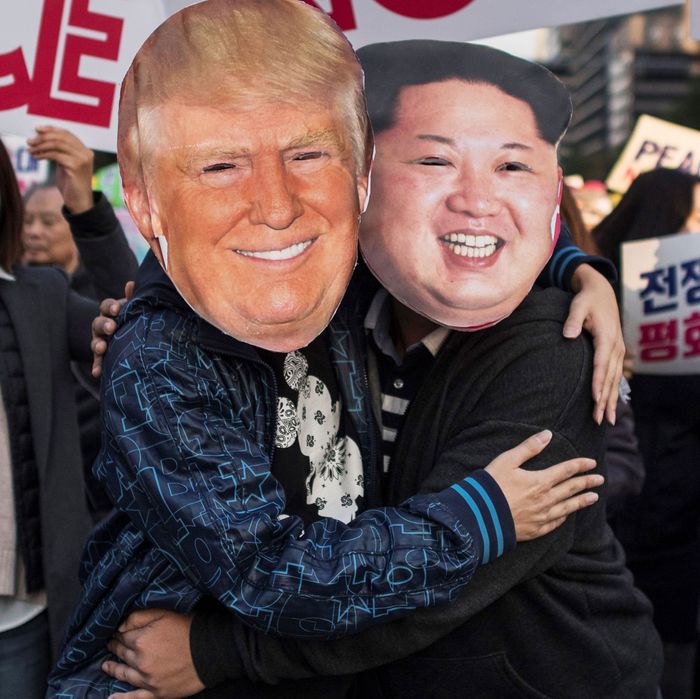 Hugs.
Photo: Ed Jones/AFP/Getty Images
Just days after President Trump called North Korean leader Kim Jong-un "short and fat," the 33-year-old dictator's state media apparatus says Trump has been "sentenced to death." A proportional response it was not.
An editorial in the state-run newspaper Rodong Sinmun did not mention Trump's tweet, but focused instead on the president's trip last week to South Korea, where he spoke to the National Assembly in Seoul and heavily criticized the North Korean regime.
"Trump betrayed his true colors as an old lunatic, mean trickster and human reject during his one night and two days stay in South Korea," the editorial said. "He should know that he is just a hideous criminal sentenced to death by the Korean people. He will be forced to pay dearly for his blasphemy any moment."
Rodong Sinmun has lobbed plenty of insults at Trump over the past 11 months, calling him a "rabid dog," a "psychopath," and mocking his "weird," "ego-driven" tweets.
Wednesday's editorial also offered an alternative explanation for why Trump failed to visit the DMZ while in South Korea. The White House said last week that heavy fog forced helicopters to turn back while en route to the 38th parallel. Rodong Sinmun refutes that story. "It wasn't the weather," the paper said. "He was just too scared to face the glaring eyes of our troops."