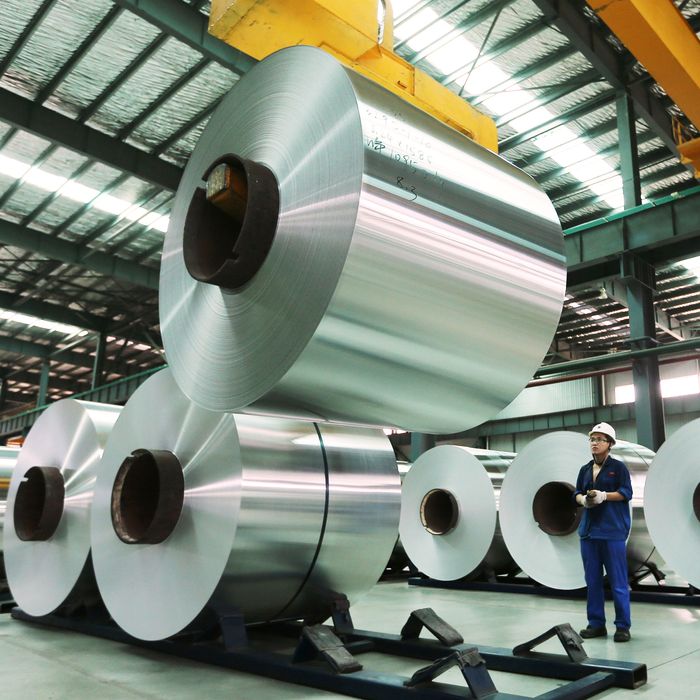 Employees work among rolls of aluminum at Meixin aluminum factory on August 3, 2017 in Suixi, China.
Photo: VCG via Getty Images
During his recent trip to Beijing, Donald Trump sounded less like a pugnacious populist than a giddy globalist. The president raved about the superlative beauty of Chinese military parades, the joys of eating dinner with Xi Jinping, and the "absolutely terrific" bilateral meetings he had with the Communist leader. Meanwhile, Trump neglected to utter a critical word about Beijing's human-rights abuses at home or belligerent activities in the South China Sea.
On the campaign trail, Trump had spoken of China as a mortal enemy. Last winter, he suggested that he might buck Beijing on U.S. policy toward Taiwan, while his secretary of State suggested the American military would block China's access to its disputed islands in the Pacific. Now, Trump appears content to bask in the warmth of Xi's flattery, while Hillary Clinton takes up the mantle of anti-China populism.
But on Tuesday morning, Ely Ratner of the Council on Foreign Relations predicted that Trump's love affair with Beijing would be short-lived for three reasons:
1) Trump is finally getting his national security team in place — and that team is composed almost entirely of China hawks.
2) That team is soon to produce two official strategy documents, which will likely name China as "first and foremost a strategic competitor."
3) Politics. As Ratner writes:
Consider how Democrats and even some Republicans have pulled Trump back to a more moderate position on Iran. With China, it's going to be the opposite. The dominant criticism in Washington — across the political spectrum — is that Trump has failed to deliver on China.
On Tuesday afternoon, the Trump administration lent credence to Ratner's theory: The Commerce Department announced that it will be launching a pair of investigations into alleged Chinese trade violations. Specifically, the administration will investigate whether China is exporting aluminum to the United States at artificially low prices, thereby causing unfair injury to U.S. firms. The investigations could lead steep duties on more than $600-million-worth of aluminum sheet imports by early next year.
Notably, the Commerce Department "self-initiated" these investigations — as opposed to taking them up in response to a petition from a U.S. firm. The American government has not self-initiated such a trade measure since the George H.W. Bush administration cracked down on Canadian softwood lumber imports in 1991.
Trump "made a promise to American businesses, workers and farmers that he would vigorously enforce our trade laws and be more enforcement-minded than our predecessors," Commerce secretary Wilbur Ross said Tuesday. "Today's action shows that we intend to make good on that promise to the American people."