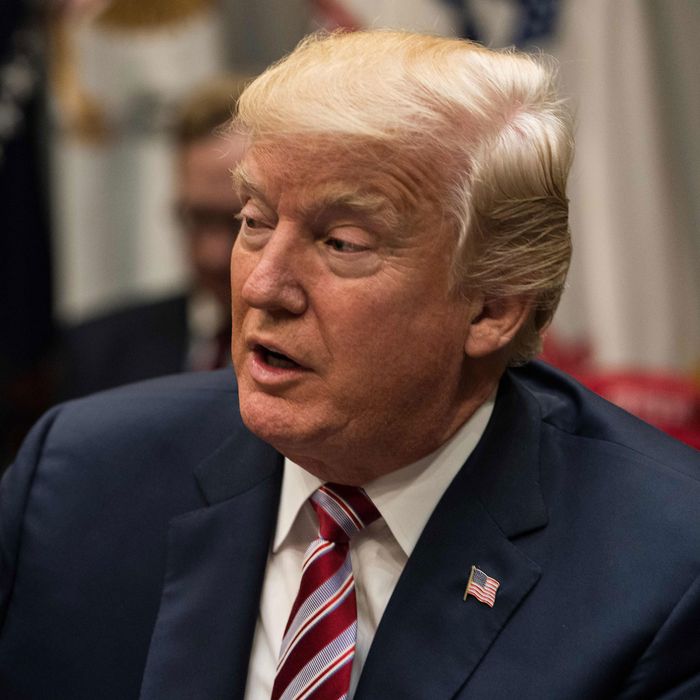 "Lock her up."
Photo: Nicholas Kamm/AFP/Getty Images
For Donald Trump, the rule of law is like a three-legged puppy, the scene where Bambi's mother dies, and an Elliott Smith album all rolled into one.
"You know, the saddest thing is that because I'm the president of the United States, I am not supposed to be involved with the Justice Department," the president told conservative radio host Larry O'Connor on Thursday. "I'm not supposed to be involved with the FBI. I'm not supposed to be doing the kind of things that I would love to be doing. And I'm very frustrated by it."
Hours after lamenting the fact that the United States is a constitutional republic — where the president can't order the FBI around like it's his personal detective agency — Trump ordered the FBI to "go after" his political opponents for noncriminal activities.
Here, the president makes a six-point case for why the Justice Department should stop its baseless investigation into the Trump campaign (which has already produced two indictments and a criminal confession), and concentrate its resources on Hillary Clinton and the Democrats. Let's take each of his arguments in turn:
(1) "New Donna B book says she paid for and stole the Dem Primary."
In her new campaign memoir, longtime Democratic operative Donna Brazile alleges that Hillary Clinton struck a shady deal with the Democratic National Committee in August of 2015: Clinton would tap her vast donor network to get the debt-ridden DNC back into the black, in exchange for control over the committee's "finances, strategy, and all the money raised."
There is little reason to think that this arrangement had any determinative effect on the outcome of the 2016 primary. Still, if true, it raises troubling questions about the DNC's management and the Democratic Party's resource allocation, among other things.
But none of those questions are criminal. It's true that the Clinton campaign exploited a loophole in campaign-finance laws to launder donations through state parties into her campaign. But the whole point of legal "loopholes" is that you can exploit them without technically breaking the law. Beyond that, political parties are private organizations that are free to conduct their nomination processes virtually any way they chose.
(2) "deleted E-mails."
Little-known fact: The FBI actually already conducted a thorough, months-long investigation into Clinton's emails last year and found no wrongdoing that merited prosecution. Trump must have missed this development, since the mainstream media took pains to avoid any mention of it during the 2016 campaign, lest unproven allegations influence the outcome of a high-stakes presidential election.
(3) "Uranium."
This is a reference to the "Uranium One" pseudo-scandal: Between 2009 and 2013, Russia's nuclear-energy agency purchased a majority stake in a Canadian company (Uranium One) that owns uranium mines in the United States. Also, a donor to the Clinton Foundation once owned a stake in said Canadian company.
Thus, conservatives concluded that Crooked Hillary had sold 20 percent of America's uranium to the Kremlin as a favor to one of her well-connected donors. This is maniacally dumb for several reasons:
*Russia did not actually buy American uranium, so much as a financial asset tied to that uranium. All of the uranium remains in the United States, and the Russian government simply enjoys a cut of the profits produced from the commodity.
*The State Department was one of nine federal agencies to sign off on the deal. Clinton could not have unilaterally vetoed it — only President Obama could have.
*The Clinton donor who owned a company that merged with Uranium One unloaded his personal stake in 2007, and did not stand to benefit from the deal with Russia.
(4) "Podesta."
Democratic Party–aligned lobbying firm the Podesta Group is widely suspected of violating the Foreign Agents Registration Act — one of the (many) laws that Trump campaign manager Paul Manafort was indicted for violating. The Justice Department is already investigating the Podesta Group, and its former leader Tony Podesta. Thus, Trump's request is unnecessary, and does nothing but provide Podesta's lawyers with a potential line of defense.
(5) "The Server."
See: No. 2, above.
(6) "People are angry."
This is Trump's strongest, most honest argument: A lot of Republican voters would like to see Hillary Clinton put in prison and are upset that she remains a free woman. Unfortunately, in the United States, GOP primary voters do not have power to jail people they dislike for noncriminal activity (yet): For all the president's attempts to subvert rule of law in the United States, federal law enforcement agents have retained their loyalty to the Constitution.
Sad!