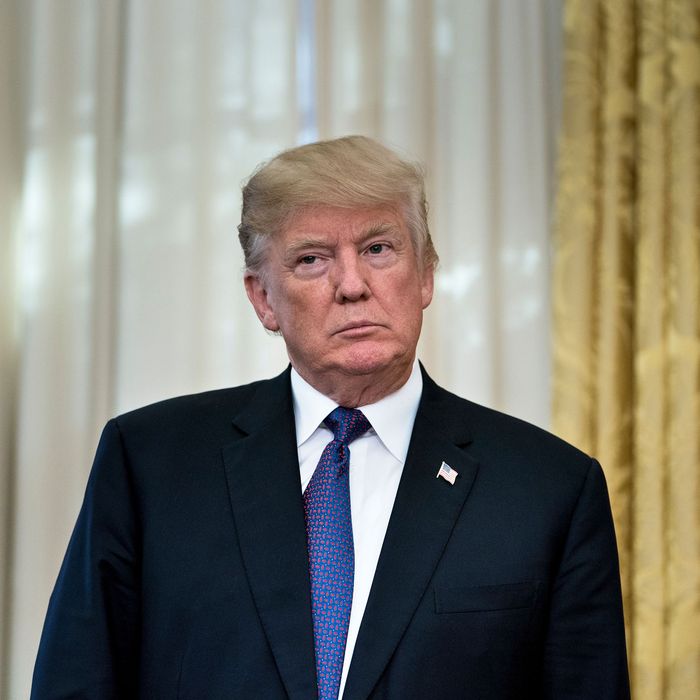 The master deal-maker at work.
Photo: Brendan Smialowski/AFP/Getty Images
President Trump tweeted on Tuesday morning that he was not hopeful about a deal with Democrats to avoid a government shutdown in December.
Hours later, Senate Minority Leader Chuck Schumer and House Minority Leader Nancy Pelosi said in a statement: "Given that the president doesn't see a deal between Democrats and the White House, we believe the best path forward is continuing to negotiate with our Republican counterparts in Congress instead."
On December 8, the U.S. government will run out of money (though the deadline may be temporarily extended to later in the month). To avoid shutting down, Congress will need to agree on a wide-ranging budget deal. Because many recalcitrant Republicans have no interest in extending the debt limit, which would be a part of any such deal, Republicans will need Democratic votes to help keep the government up and running or risk a political backlash. Democrats thus have a surprising amount of leverage on the contents of the year-end spending bill.
High on their possible list of demands are restoring funding for the Children's Health Insurance Program, which Republicans have let lapse; pushing through an adequate aid package for Puerto Rico and other areas ravaged by recent hurricanes; and possibly the bipartisan Murray-Alexander health-care bill, which would help shore up Obamacare's markets.
But their No. 1 priority is codifying the Deferred Action for Childhood Arrivals program, which Trump announced he would roll back in September. Several prominent Democrats have said they would be willing to shut the government down over the issue. Trump himself has, in the past, expressed hope for an agreement, but his nationalist base shows no such enthusiasm.
In September, Trump briefly displayed flashes of bipartisan fervor when he agreed to Chuck Schumer and Nancy Pelosi's demands that the government be kept running through December. He also reportedly agreed to a deal to preserve DACA, delighting Democrats. But his concessions — especially on immigration — drew vociferous criticism from Steve Bannon and the "America First" crew, and the president quickly backed away from his promises, as he is wont to do.