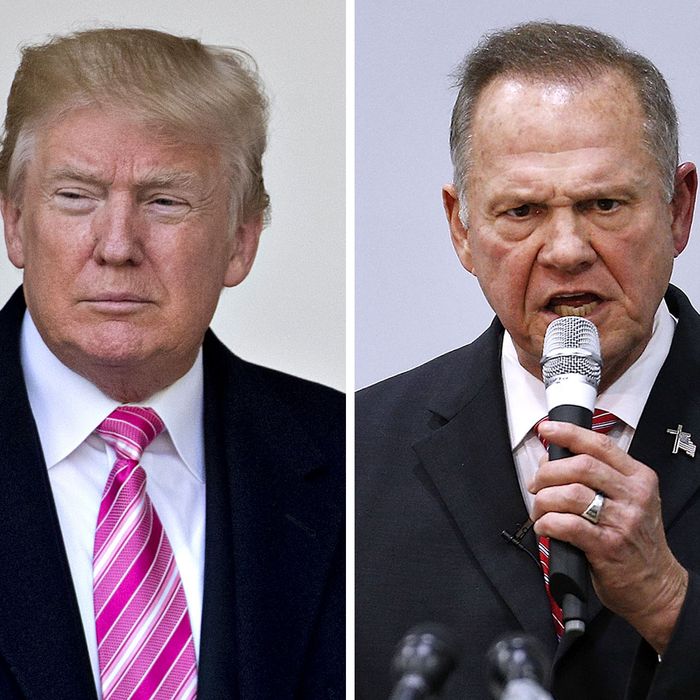 The president clearly wants to help Roy Moore, but not at the risk of another failed appearance in Alabama.
Photo: Andrew Harrer/Bloomberg; Jonathan Bachman/Getty Images
Last week, the president conspicuously opened the door to the possibility of personally campaigning in Alabama for embattled GOP Senate candidate Roy Moore. After basically endorsing Moore in comments to reporters after an unrelated White House event, Trump said in response to a question about campaigning for Judge Moore that he'd be "letting you know [about it] next week." He also continued tweeting condemnations of Moore's Democratic opponent Doug Jones over the weekend.
But today, the Associated Press is reporting from White House sources that Trump will not being going to Alabama to thump the tubs for Moore.
No reason was offered for this decision, though several seem plausible. Trump may be hedging his bets on Moore given the close and conflicted polling of the Moore/Jones race. He could also know something the rest of us don't know about additional allegations still to come against the Ayatollah of Alabama. Maybe he's uncomfortable with cozying up too much to a candidate who is constantly bashing Senate Republicans at a time when Mitch McConnell is laboring to pass a tax bill. Or perhaps he's brooding over his very unsuccessful personal appearance for Luther Strange before Moore dispatched the appointed senator in a September runoff, and doesn't want to go 0-for-Alabama in 2017 by campaigning for another loser.
What makes this whole situation odd is that Alabama is supposed to be a state where Trump walks on water. At this point, he's just splashing around in the surf at the periphery of a crucial Senate race, unsure whether to dive in to save his party's unsavory nominee. He only has 15 days to hit the right balance between throwing Roy Moore life preservers or looking the other way if he sinks.