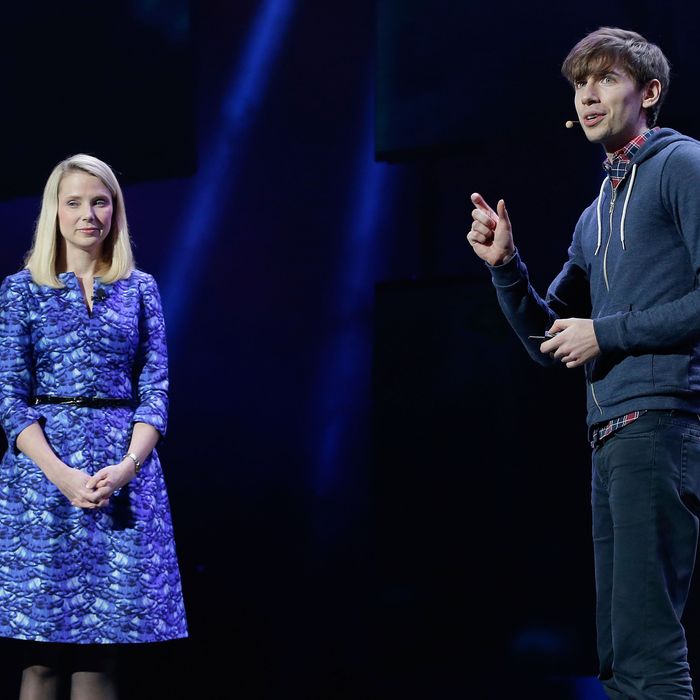 Karp and Yahoo CEO Marissa Mayer in 2014 following the site's acquisition.
Photo: Julie Jacobson/AP
David Karp, the founder of the blogging platform and social network Tumblr, announced today (in an email whose subject line was an infamous Tumblr meme, of course) that he's stepping down from the company at the end of this year. It's not a huge surprise — since Tumblr was purchased by Yahoo in 2014, it's felt inevitable that Karp would leave — but his departure still brings the social network's already-shaky outlook even further into question now that Yahoo is owned by Verizon.
In an email featuring a subject line with a quote from Bee Movie, a popular meme on the platform, Karp said, "It is truly overwhelming to write those words." Taking over for him in his absence will be Tumblr president and COO Jeff D'Onofrio and Oath executive Simon Khalaf. "They are both true believers in what we've built and how much we can still do," he said.
Tumblr was bought by Yahoo in 2013 for a staggering $1 billion, the first major acquisition for CEO Marissa Mayer, who sought to infuse the legacy brand with a younger, cooler user base. Since its founding, Tumblr had become a hub for young people to geek out on, and its structure of reblogs and resharing others' content created a sitewide conversation known semi-jokingly as "the Discourse."
"I look back with so much pride," he said. "At a generation of artists, writers, creators, curators, and crusaders that have redefined our culture, and who we have helped to empower." He's not necessarily wrong.
But for all of its substantial influence, Tumblr has had problems with monetization and finding a consistent source of revenue. Mismanagement and miscommunication between the site and the Yahoo mothership derailed initiatives, and rumors occasionally circulated about the site's possible closure, especially in light of Verizon's acquisition of Yahoo. Karp, in the meantime, remained at the company trying to steer it in the right direction, surviving not one but two acquisitions.
"I beg you to understand that my decision comes after months of reflection on my personal ambitions, and at no cost to my hopefulness for Tumblr's future or the impact I know it can have," he wrote to staff. "The internet is at a crossroads of which this team can play a fundamental role in shaping."
It's unknown what Karp plans to do next. Assuming he got a pretty hefty chunk of that $1 billion purchase price, he might just ride off into the sunset.