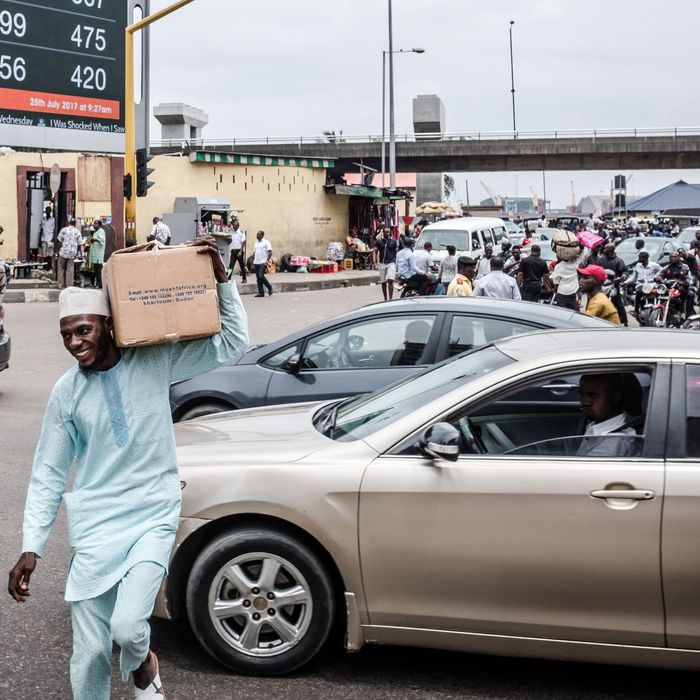 Photo: Tom Saater/Bloomberg via Getty Images
Back in May, Uber significantly slashed its base fares in Lagos, Nigeria. Good if you're a rider, not so good if you're a driver looking to earn a living. In response, some drivers in the area have started using an Android app called Lockito to scam Uber's fare meter into making their riders pay more. Lockito, according to a report from Quartz, "lets your phone follow a fake GPS itinerary." At the end of the trip, the Uber app then charges the rider for both the real ride and the fake one.
"Uber was sweet, until they slashed the price," one Uber driver named William told Quartz, noting he only uses the scamming app to stay afloat financially and keep up with his car payments. "They did not bring back their price up, so the work started getting tough and tougher. When the thing was just getting tougher, I had no choice but to go on Lockito."
From Quartz:
Some drivers use Lockito to inflate fares by adding 1000 naira to 2000 naira extra (roughly $3 to $6) but some drivers are believed to inflate fares to exorbitant levels. A trip from Lekki, a neighbourhood in Lagos, to Murtala Muhammad International airport is roughly 32 kilometers and would normally cost just under 3,000 naira ($8). Williams says he recently heard of a Lockito trip that cost more than 5 times that amount.
Several drivers in Nigeria also recently launched a class action suit saying Uber drivers in the country should receive employee benefits, like minimum wage and paid holidays. If this suit goes the way of a similar case brought up in London last year by two former drivers — a ruling that was upheld earlier this week — Uber might want to take note.